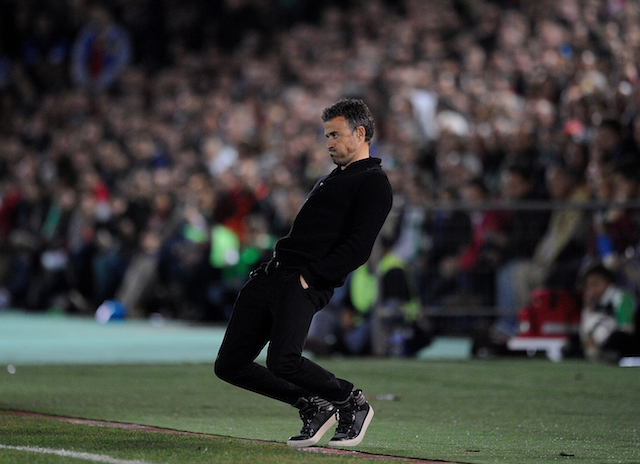 Barcelona boss Luis Enrique issues war cry: "We can score six goals"
Barcelona manager Luis Enrique has issued a war cry ahead of tonight's UEFA Champions League clash with Paris Saint Germain.
The 46-year-old manager has stated he believes Barca have what it takes to make a historic comeback against the reigning Ligue 1 champions.
"We are only halfway through the tie," Luis Enrique stated at the pre-game press conference.
"There are 95 minutes left and lots of things can happen. I go into the game with a positive mood. We have to do everything really well, both in defence and in attack. PSG are a really good side.
See More: For the latest Arda Turan news and everything else you ever wanted to know about the Barcelona star
"Of course, lots of things have happened since the first leg. We have improved and have put in some good performances. We are optimistic by nature and convinced of what we can do. We will try to make the most of the favourable circumstances.
"If a team can score four times against us, we can score six times against them. We have seen that before this season. We have nothing to lose.
"My optimism does not mean I have unbreakable faith, but there are all sorts of performances in sports, negatives and positives. We have not been in a situation like this before, but I have faith in the team. You always have to keep your emotions in check.
"I am not interested in becoming part of history. But I am convinced we will get chances. That does not mean it is definitely going to happen, but I think we can get close and boost morale even further, which could affect our opponents.
"I don't have the feeling that we need the best game since I got here. We obviously have to play well and really effective. But it depends on how the match goes.
"Penalties on the training pitch are nothing like penalties in a big game. We have not trained penalties. I am not worried about penalties."
Barcelona suffered a 4-0 defeat at the Parc des Princes a fortnight ago. The Catalan giants will need to score at least four goals tonight if they are to stand a chance of qualifying to the quarter finals.
Luis Enrique's side have recored four wins in a row since their defeat to PSG, including victories over Atletico Madrid and Celta Vigo.
Turkey international Arda Turan is available for selection tonight. The 30-year-old has missed four games in a row due to an adductor injury but made a return to first-team training this week.
PSG currently sit in second place in Ligue 1 and find themselves three points behind leader's Monaco.