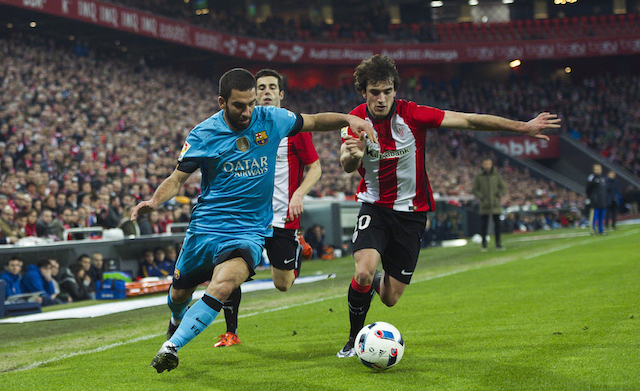 Barcelona fans call for Arda Turan to replace Rafinha on social media
Barcelona returned to winning ways in the La Liga after beating Valencia 4-2 at the Camp Nou on Sunday 19 March.
Barca manager Luis Enrique did not however, include Turan in the match day squad.
See More: For the latest Arda Turan news and everything else you ever wanted to know about the Barcelona star
The decision remains a mystery as Turan was reported to be match fit.
Turan recently recovered from an adductor injury and featured in the 2-1 defeat at the hands of Deportivo the week before.
Despite beating Valencia, Barcelona did concede the opening goal and the visitors posed a danger even with 10 men.
Barcelona fans questioned the decision to drop Turan and sections of the fanbase could not understand how Rafinha gets to play instead of the experienced attacking midfielder.
We took a look at how Barcelona fans reacted to the decision on social media.
There more quite a few supporters who thought Turan should have at least been available to bring on for Rafinha whose performance on the night was criticised.
Arda Turan should take the place of Rafinha

— Olúwatósìn (@Mr_tinto) March 19, 2017
Why not start Arda Turan on the right? way way better than Rafinha!

— Akshay Sugandhe (@ASugandhe) March 19, 2017
Barça's lineup is a joke.
How can you prefer Rafinha as a starter instead of Arda?
They don't deserve the Turkish God.

— Andrea (@KakaAssist) March 19, 2017
Bring in Arda for Rafinha

— Chad Smith (@RSmithCreations) March 19, 2017
@jperkovic93 what if lucho plays Arda in place of rafinha

— venkatesh@fcb (@VenkiNag1318) March 19, 2017
Bring in Arda for Rafinha

— Chad Smith (@RSmithCreations) March 19, 2017