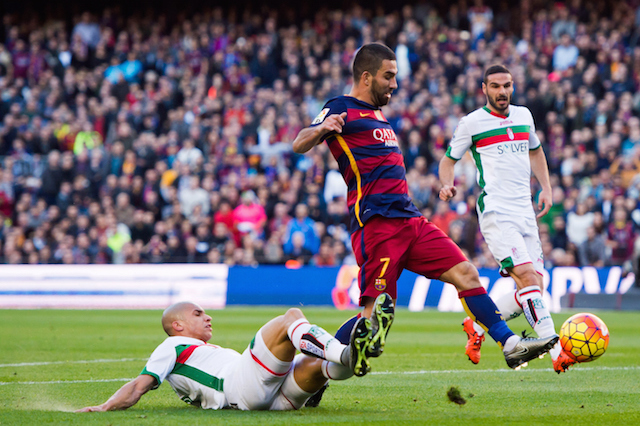 Barcelona fans react to drawing Juventus in Champions League on social media
Barcelona will take on Juventus in European competition for the 10th time when they go head to head in the Champions League quarter-finals.
Juventus actually have the better head to head record having won four of the nine games played against each other, with Barcelona winning three and two games ending in a draw.
See More: For the latest Arda Turan news and everything else you ever wanted to know about the Barcelona star
Barcelona did however, beat Juventus when they last faced each other in the 2015 Champions League final. The La Liga champions beat Juve 3-1 in the final played at the Berlin Olympic stadium.
The clash of the European juggernauts has got fans pretty excited.
We took at how Barcelona fans reacted to the draw.
Juventus are the reigning Italian and currently first in the Serie A. Barcelona have been inconsistent this season wheres Juve have been the complete opposite.
Barcelona faces Juventus over two legs, a big challenge as the Italians have been the most consistent and convincing top club this season.

— Rafael Hernández (@RafaelH117) March 17, 2017
Confidence!
We are Barcelona we will humiliate Juventus

— Abubakar90 (@EdwinMakgona) March 17, 2017
It appears Juventus are also the victim of 'refereeing conspiracies'. PSG fans were outraged with some of the refereeing decisions during their 6-1 defeat at the Camp Nou. The referee may not have been perfect but if a team is unable to protect a 4-0 lead perhaps the players should take the blame…
LMAO two teams, Juventus and Barcelona who helped by referee on their league now face each other.

Who will win? 😂

— Rossonerro Kid (@BocahRossonerro) March 17, 2017
Juventus vs Barcelona is like a referee derby lmao.

— Me (@manojsundar_) March 17, 2017
Barcelona team for the juventus game 😇 pic.twitter.com/HY1c1qjeVO

— 4 (@Scanty__) March 17, 2017
Messi v Buffon, a footballing fantasy.
Barcelona-Juventus is when the greatest to ever do it meets the greatest to ever do it pic.twitter.com/kpgULK4drS

— Ahmad (@ahmadf_o) March 17, 2017
And on the opposite end of the spectrum…
Barcelona v Juventus, What could possibly go wrong with that matchup? pic.twitter.com/AhgslrHDGx

— Rob (@free8s) March 17, 2017
Facing #Chiellini in #UCLdraw quarter-finals, Luis #Suarez be like #JuveBarcelona #Juventus #Barcelona @chiellini pic.twitter.com/Fpz7spBUHs

— Andrea M (@ascend28g7) March 17, 2017
Hah!
The only way Juventus can defeat Barcelona is if the second leg isnt at Camp Nou pic.twitter.com/0oQXBFP5X0

— Stan (@Femi_MartinsOG) March 17, 2017
Remember this?
Galatasaray send fax to Barcelona with the blueprint to beating Juventus pic.twitter.com/wnC9LfYfW4

— Turkish Football (@Turkish_Futbol1) March 17, 2017
The quarter-final first-leg will be played on 11-12 April with the return tie on 18-19 April.