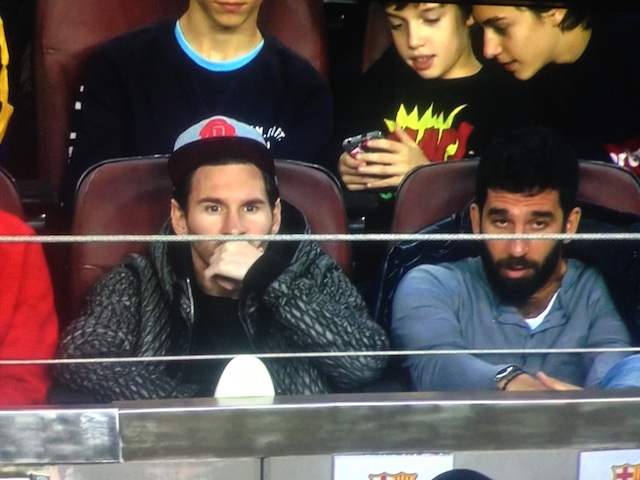 Barcelona fans react to victory over Valencia on social media
Barcelona returned to winning ways after defeating Valencia 4-2 at the Camp Nou stadium on Sunday 19 March.
Turkish international attacking midfielder Arda Turan was dropped from the side going into the game.
See More: For the latest Arda Turan news and everything else you ever wanted to know about the Barcelona star
The reason behind the decision remains unknown.
Barcelona actually conceded the first goal when Mangala found the back of the net with a powerful header.
The Manchester City loanee ended up getting sent off before the end of the first half which coincided with Barcelona taking the lead.
Just when it looked like Barca would enter half time ahead Munir equalised for Valencia.
Barcelona regained the lead shortly after half-time thanks to Messi and then Neymar setup Andre Gomes with the fourth and final goal just a minute before half-time.
We took a look at how Barcelona fans reacted to the performance on social media.
Perhaps the tweet of the night
Seriously, like I'm 100% convinced Messi isn't human.

— Josip (@jperkovic93) March 19, 2017
Mangala went from hero to zero within the space of 45 minutes.
Mangala in 45min vs Barcelona:

Goal: 1
Penalty Conceded: 1
Red card: 1 pic.twitter.com/rtW15MW1L0

— City Chief ️ (@City_Chief) March 19, 2017
Messi being Messi
Lionel Messi scores !!! Easy for Messi. Barcelona lead 3-2 pic.twitter.com/qzfq7L5DKg

— TFE (@FEnthusiastHd) March 19, 2017
The greatest of all time. pic.twitter.com/hesL07i3Fn

— Neymar Jr. (@NeyMarvellous) March 19, 2017
Messi completed (11) dribbles in one game vs Valencia than Ronaldo has in the entire Champions League campaign (9)

— Bʀᴇᴀᴛʜᴇ Gʀᴇᴀᴛɴᴇss (@BreatheMessi) March 19, 2017
Messi's passes are just unfair. You can't be that good.

— Josip (@jperkovic93) March 19, 2017
? RECORD!

Messi is the FIRST player to score 25+ goals in La Liga in 8 successive seasons

34 – 31 – 50 – 46 – 28 – 43 – 26 – 25 (ongoing)

— MESSISTATS ?? (@MessiStats_) March 19, 2017
Messi and Suarez have a ridiculous 47 goals between them now!
?? Lionel Messi: 25 goals
?? Luis Suarez: 22 goals

The Barcelona duo are the top two goalscorers in #LaLigaSantander! #FCBValencia pic.twitter.com/Ma96sfIW11

— LaLiga (@LaLigaEN) March 19, 2017
Barcelona loanee Munir scored for Barcelona but showed his class in not celebrating the goal – which went down very well in the Camp Nou.
Munir didn't celebrate against Barcelona. #Respect pic.twitter.com/aziqug5uGP

— Neymar Jr. (@NeyMarvellous) March 19, 2017
Suarez has been phenomenal
?? 85 games for Barcelona
? 78 goals

Luis Suarez is unbelievable!

— Leo Messi Ⓜ️ (@LeoneIMESSl) March 19, 2017
And how could we forget Neymar?
Every player on Barcelona's team tonight deserves flogging including Messi and Suarez, what is this mess? I thank God we are winning sha.

— William Tom-Ita (@Lupin_333) March 19, 2017
19 – Neymar has made more assists than any other player this season in all competitions (top five leagues). Magic. pic.twitter.com/sUN33LGMGA

— OptaJose (@OptaJose) March 19, 2017
Neymar didnt get on the scoresheet but his performance was as good as it gets. So invovled in the overall play and created so many chances

— El Máestro (@ElMaestrofcb) March 19, 2017
Neymar is worth all the orgies and tax trials in the world

— Julian (@ElAficionadofcb) March 19, 2017
Is Neymar approaching the level of Messi?
Neymar is without doubt the second best on the planet now.

— RJ (@dariusvassell) March 19, 2017
Barcelona only won by a single goal margin but they totally outplayed Valencia for most of the game.
I hate Barcelona but it's probably because they make football looks so easy sometimes. #Mockery

— Tom Clark (@tom_claark) March 19, 2017
It's absolutely unfair what Barcelona is doing to Valencia #barcavalencia

— they call me moe (@_MohamedNasser_) March 19, 2017
Not everyone was pleased with Barcelona's display. They were losing at one stage, conceded twice at home and despite scoring three goals they were wasteful at times.
Barcelona so wasteful tonight. Could have long put this game to bed

— Celous © (@Celousrach) March 19, 2017
Barcelona with Lotta poor decisions in the final third.

— Babajide 'jyd' Amure (@jyd18) March 19, 2017
Every player on Barcelona's team tonight deserves flogging including Messi and Suarez, what is this mess? I thank God we are winning sha.

— William Tom-Ita (@Lupin_333) March 19, 2017