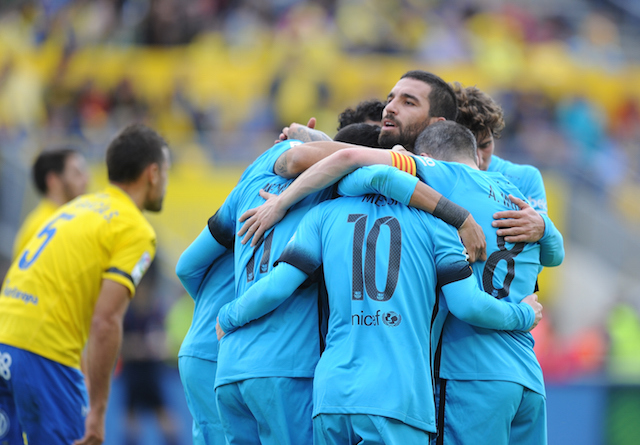 Barcelona midfielder Arda Turan has been accused of sexually harassing a woman, headbutting her popstar husband Berkay and then firing a gun at the hospital the singer was taken to for treatment.
Turkish football star Arda Turan has had a pretty dramatic fall from grace over the past few years. The once-upon-a-time Atletico Madrid star became the most expensive Turkey international player after being sold to Barcelona for €34m in 2015.
Since then Turan's career has spiraled out of control, culminating in a two-year loan move to Basaksehir last summer. The midfielder is currently serving a 16-match fan for assaulting a referee and retired from international football after attacking a reporter on an aeroplane but all that pales in comparison to the events which unfolded on Wednesday.
A fight involving popstar Berkay Sahin and Turan broke out at an Istanbul nightclub in the swanky Emirgan area of the city after he was accused of sexually harassing the singers wife.
Turan was questioned by Turkish police afterwards and while he fervently denies harassing Berkay's wife he admits to a fracas with Berkay which resulted in the singer being taken to hospital with a broken nose.
The Basaksehir loanee also admitted to going to the hospital afterwards with a firearm which was shot – accidentally.
"I then went to the hospital and gave my gun to Berkay. I told him to kill me if he believes in the allegation that I harassed his wife. He said he believed me. The gun was accidentally shot when I took it back," Turan was quoted as saying to the police.
The 30-year-old was released but his gun was seized by police.
There are reports that the gun was not licensed but there has been no official verification yet.
Turan claims he was so outraged by the accusation of sexual harassment that he went to the hospital with a gun which he gave to Berkay.
The Turkish international claims he told Berkay to shoot him if he really believes the claims.
"I told him, if you really think I harrassed your wife take this gun and use it, I won't even press charges," he said in his statement.
"Berkay said, 'no captain I really like you, there is no problem, I don't believe it," he said.
"After I heard him say that I left but when I picked up the gun it accidentally fired."
Berkay has revealed that he will be pressing charges against Turan: "I have decided to press charges and have full faith that justice will be served, he will serve his punishment."
The singer did however, make it clear that he will consider dropping the case if Turan comes clean about what happened that night.
See More: Arda Turan Receives 16 Match Suspension For Attacking Referee During Basaksehir Clash
"If he owns up and stops telling ridiculous stories I could put this all aside," he added.
"I have two conditions. First that he apologies to my partner, to his partner, myself and the general public for his actions and accepts his behavior was disgraceful. Secondly that he admits he harassed my wife. If he does we can talk man to man and resolve our differences."
Turkish television station Kanal D shared video footage of the bar fight which took place in the early hours of the morning.
Trabzonspor striker Burak Yilmaz can also be seen at the scene.
The clip also has footage of Turan with a gun at the hospital afterwards.
Video showing showing what Arda Turan got up to on Wednedsay night..

See what happens when there is an international break! pic.twitter.com/PP1f5rqJoU

— Turkish Football (@Turkish_Futbol1) October 13, 2018
Turan could have his football license stripped by the Turkish Football Federation if he is charged with a prison sentence over two-years.
The midfielder stands accused of breaking several laws including harassment, assault and battery, firing a weapon in a hospital, carrying an unlicensed gun.
The prison sentence for each crime according to the Turkish legal system is as follows:
– Sexual harassment: 2-5 years (TCK 102/1-2)
– Battery and Assault: 1-4 years (TCK 86/1 – 87/3)
– Firing a gun in a hospital: 6 months-3 years (6 ay-3 yıl)
– Carrying an unlicensed gun: 1-3 years (6136/13)