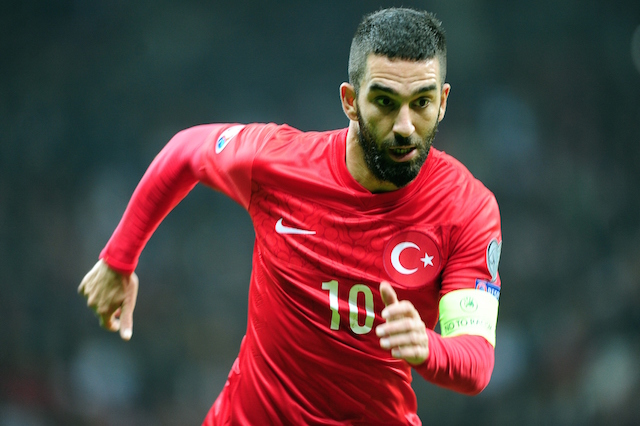 Barcelona star Arda Turan physically assaulted Turkish sports journalist on plane
Barcelona star Arda Turan verbally and physically assaulted a Turkish sports journalist on a plane carrying the Turkish national side from Skopje, Macedonia to Trieste, Italy on June 5.
Turan and his teammates were preparing to board their flight following the international friendly against Macedonia
Prior to the plane took off, Turan reportedly approached Bilal Meşe from the Milliyet newspaper and started hurling abuse at him.
"Tell me Bilal Meşe, were you there? Were you with us when you wrote about the bonuses issue? Who did I ask for money from? Who did ask I for bonuses from? Talk. Come on. Who made you write those reports?" Turan reportedly shouted at the Milliyet journalist.
Turan was referring to allegations that the reason for Turkey's poor performance at the European Championships last year, in which Turkey lost two out of their three group stage games stemmed from a dispute between the squad and the Turkish Football Federation over player bonuses.
"What kind of a country is this? They allow you onto this plane. F*** those who allowed you onto this plane," Turan reportedly shouted at Meşe.
"You thought I was like the others. Who did I beg for money from? You son of a b****. I'd quit football before allowing anyone to say anything against my honor, my family.
"Your boss is [TFF President Yıldırım] Demirören. You are from the newspaper of the TFF president! Isn't your boss the TFF president?" he added.
Turan then grabbed Meşe by the throat and was about to hit him when teammates Burak Yılmaz and Caner Erkin, intervened.
Following the incident, the experienced attacking midfielder shared a message on his Instagram account trying to explain his actions: "Did I do right yesterday? I don't know!!!"
"Maybe not right, but at least honest, honorable, esteemed behavior … Did I get an answer? No … [He] filled up the pages for months, but in front of me he had no more than two words," Turan wrote.
The experienced attacking midfielder did start against Macedonia but it remains to be seen whether Terim will take disciplinary action against Turan before the World Cup qualifier on June 11 against Kosovo.