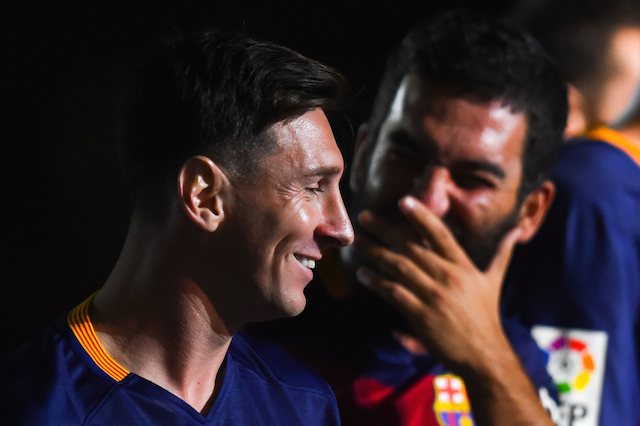 Barcelona to accept £25m Arsenal bid for star attacking midfielder being tipped as Mesut Ozil's successor
Barcelona are willing to accept Arsenal's £25 million bid for Arda Turan according to reports in Turkey.
CNN Turk claim that Barcelona will accept the Arsenal bid as part of a planned squad overhaul this summer.
Per the source, Barcelona are keen on the move as they will have to raise funds to make additional transfers this summer due to Financial Fair Play constraints.
See More: Chelsea target buys house near Stamford Bridge stadium
The Turkish sports media does tend to get embroiled in quite outlandish transfer stories like most countries approaching silly season.
What is interesting is that this is the Turkish branch of CNN reporting the story.
Turkish-Football have been in regular contact with Turan's agent Ahmet Bulut who as recently as March denied a similar story.
Speaking to Eren Sarigul of Turkish-Football who was writing an article for ESPN FC, Bulut said: "There is currently no offer, there is nothing to speak of right now, " Bulut told ESPN FC.
"I have not been contacted by Arsenal. As I said before, he is happy at Barcelona and has three years left on his contract."
Bulut was responding to the The Times who  reported that Arsenal are plotting a £25 million move for Turan, with the attacking midfielder tipped as a replacement for Mesut Ozil, who will have just 12 months remaining on his contract at the end of the season.
In football a lot can change in a week, let alone a month. The Spanish media is full of reports that Barcelona are considering selling Turan.
The ball is however, in Turan's court, he has a lucrative contract deal with three-years remaining.
Turan will make the final decision regarding his future, he is currently happy at Barcelona and has ruled out a move to China at this stage in his career.
It is worth noting that he is not against the idea of playing Premier League football and did recently buy property in London.
The 30-year-old has been in good form this season scoring 13 goals and providing seven assists in all competitions.