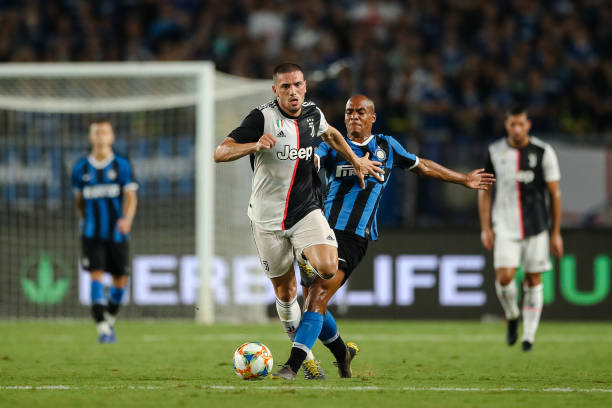 Juventus presented Turkish defender Merih Demiral on Tuesday following his €18m move from Sassuolo in July.
Demiral was given his belated official unveiling on Tuesday in a press conference held at the Allianz Arena.
"I'm very happy to be here. I know that Juventus is a very important team and for me it's an honour to be here. I hope to adapt myself to the new environment here as soon as possible. It took a lot of effort for me to get here, but it's all the result of the work I've put in. It's a dream come true to be here," Demiral said.
The 1.92m tall centre-back revealed that it is an honor to be compared to Juventus legend Paolo Montero and that his current teammates are his 'real idols' now.
With the likes of Cristiano Ronaldo, Giorgio Chiellini and Leonardo Bonucci Demiral has no shortage of legends to look up to.
"To be compared to Montero is an honour for me. I hope to be able to show the fans that I'm a strong defender and live up to that expectation. My real idols are the players that I'm playing with now, like Chiellini."
Demiral has become the first Turkish international to play for Juventus but he is not the only Turk in the town.
Germany international Emre Can is actually an ethnic Turk and he's been helping Demiral settle in – Can is fluent in Turkish.
See More: The Story Behind Merih Demiral Picking The No 28 Juventus Shirt Revealed
"To be the first Turkish player to play for Juventus is an absolute honour for me and I will try to be a role model here," he added.
"Giorgio Chiellini and Leonardo Bonucci have been helping me a lot to settle in here as well as the other players, I hope to learn a lot from them. Maurizio Sarri looks over the defensive side of play personally, and this allows me to train in the best possible way and work on my weaknesses. Emre Can is helping me a lot to settle in both on and off the pitch and I'd like to thank him publicly for that."
Demiral will join fellow Turkish international stars Cengiz Under and Mert Cetin at Roma, Mert Mulder at Sassuolo and Hakan Calhanoglu at AC Milan in the Serie A this season.
The Juventus defender has enjoyed a meteoric rise over the past few years leaving the Fenerbahce academy for the Portuguese third-tier before joining Sporting Lisbon reserves.
Alanyaspor signed Demiral last summer and after just six-months Sassuolo snapped him up.
The young defender was so impressive in the Serie A that Juventus signed him last month.