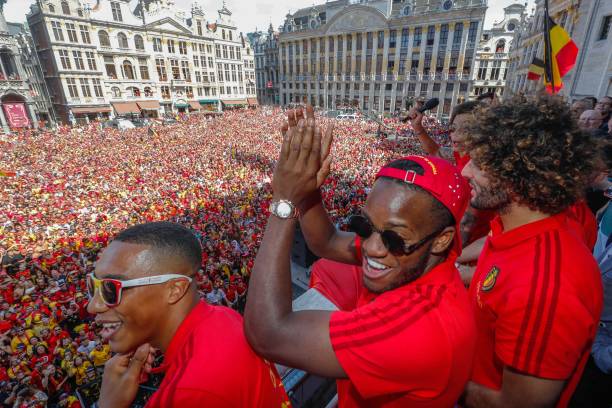 Chelsea striker Michy Batshuayi has joined Besiktas on a one-season loan.
Batshuayi is currently in Turkey and was announced as a Besiktas player with a bizarre video.
The Black Eagles social media team decided to put together a Batman themed video to welcome their new star man.
The Belgium international is revealed in a shadowy video which draws inspiration from the 'Dark Knight' movie trilogy.
To be fair it is pretty decent until Batshuayi appears in a rather naff looking Batman outfit.
It did do the trick however, as the video went viral on social media.
Well as the saying goes, any publicity is good publicity.
🦇 O Beşiktaş'ın ihtiyacı olan her şey!

Welcome to Beşiktaş @mbatshuayi #BatsmanRises pic.twitter.com/S2xmjizGZb

— Beşiktaş JK (@Besiktas) August 18, 2021
These were some of our favourite reactions to the video.
Best player announcement EVER!!!! @mbatshuayi 🦇🦇🦇🦇pic.twitter.com/4NfSS6xmcc

— Taylor Twellman (@TaylorTwellman) August 18, 2021
The video was even praised for the subtitles.
The @BesiktasEnglish Michy Batshuayi announcement proves once and for all that Turkish clubs do the best signing reveal videos.

[Indistinct chatter on transfer speculations] is in the running for best ever subtitle, too.pic.twitter.com/AQM0MFM0Sc

— MUNDIAL (@MundialMag) August 18, 2021
The Besiktas social media team appeared to be very proud of their efforts and shared a news piece of just how viral the clip went.
Kulübümüzün Michy Batshuayi Paylaşımı Büyük Beğeni Topladı

🔗 https://t.co/2Xkjs50LtE pic.twitter.com/xAQtBT0Psv

— Beşiktaş JK (@Besiktas) August 18, 2021
This summed up the outfit.
Absolutely love Besiktas' video for @mbatshuayi's loan announcement pic.twitter.com/DcoS2o1wAp

— FootballJOE (@FootballJOE) August 18, 2021
Who could forget that infamous line.
"He is a Fox in the Box" 🦊 @mbatshuayi

— Mikail Serin (@srnmkl) August 18, 2021