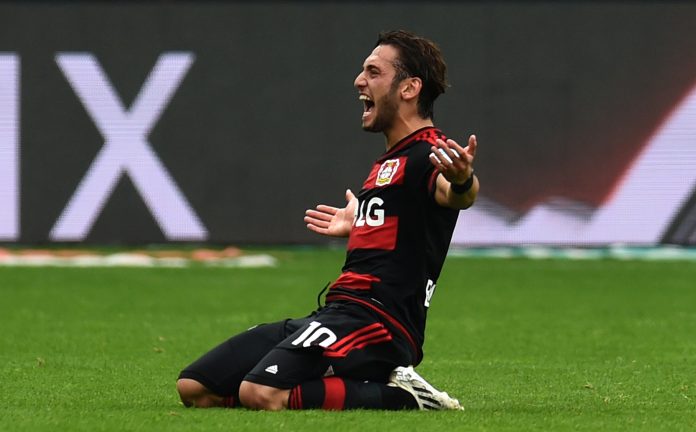 Chelsea and Man City table bids for Bundesliga star –  €20m fee being discussed
Premier League duo Chelsea and Manchester City are locked in a race to sign Hakan Calhanoglu this summer.
According to the Turkish outlet Star Spor, Bayer Leverkusen have received offers from both Chelsea and Man City for their star midfielder.
The report goes onto state that Calhanoglu is keen on a move to the Premier League.
Star Spor also report that the Premier League duo have set aside around €20 million for the transfer.
See More: Revealed: Chelsea target agent speaks out about Hakan Calhanoglu future
The Turkey international has previous stated that he would like play in England – Manchester United to precise.
Calhanoglu told Lig TV: "Barcelona and Manchester United are huge clubs, it would be difficult to turn them down."
Meanwhile agent Bektas Demirtas has stated that his client Calhangolu could leave Leverkusen this summer if his valuation is met. However, Bektas confirmed that the Leverkusen will make the final decision.
"If there is an offer which matches Bayer's valuation and which suits Hakan, then my client is open to leave. However, the final decision lies with the club," Demirtas told Kicker.
Calhanoglu will not play another game for Bayer Leverkusen this season after being handed a ban from FIFA.
For former HSV star racked up seven goals and provided seven assists in 22 game for Leverkusen before being suspended.