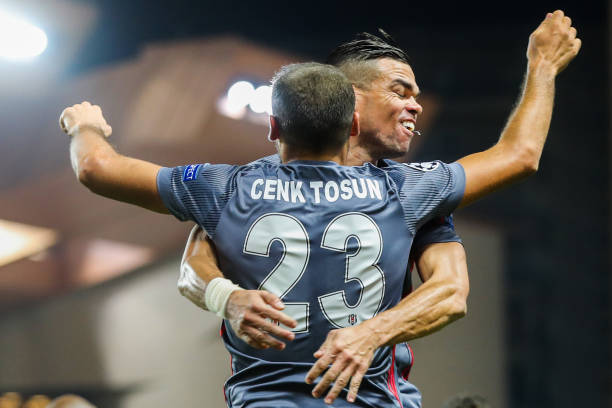 Everton Cenk Tosun Offer Confirmed But Besiktas President Reveals €35m Chinese Bid, Liverpool Derby Debut Could Still Go Ahead
Besiktas president Fikret Orman has broken his silence on the future of Cenk Tosun.
Orman revealed that Everton have made an offer in a cryptic statement.
Speaking at Domagoj Vida's signing ceremony in Istanbul Orman revealed that Besiktas received a €35 million bid from China.
Orman underlined that the bid was rejected as the club respect where Tosun wants to play.
"Everton have made an offer for Cenk, reports that we increased his price are false, our vice-president Ahmet Nur Cebi has been leading negotiations," Orman said.
"A club from China offered €35m for Cenk Tosun. And we said no. He is a very important player & we respect where he wants to play. Nothing is finished yet [Everton], if our criteria is met the transfer will go ahead."
Orman often makes cryptic statements during transfer negotiations with hidden meanings.
The president has made it clear in the past he wants Tosun to join a competitive club in the Premier League if he does leave.
This was the underlying reason why Besiktas rejected an offer from Crystal Palace over the summer.
Besiktas are focused on building a global brand and have used transfers as to help further their goals.
Departures from the Istanbul giants have often been on good terms. Besiktas have used outgoing transfers to build relations with other clubs and build a presence abroad.
Former striker Demba Ba, Pascal Nouma, Andreas Beck, Guti and Marcelo are recent examples.
Besiktas have used the names mentioned above to build closer ties and increase coverage in China, France, Germany, Spain and France.
The Tosun plan involves him joining a competitive Premier League club with the view of establishing a long term relationship.
As with any transfer, it comes down to money. Orman was however, quick to deny reports that Besiktas increased his price.
Now for the mystery China bid. An unknown club made a €35 million offer for Tosun which was subsequently rejected.
Why mention a bid that was rejected? Orman highlighted Besiktas wanting the best for Tosun's career. That the transfer is about more than money. That they turned down better offers than Everton's reported £25 million [€28m] being quoted in the media.
Orman then put to bed rumours that talks with Everton have hit the rocks. The 'transfer will go ahead' if Besiktas' 'criteria' is met. The final statement could be interpreted as a dispute over his transfer fee.
However, Turkish-Football understands that the transfer fee is not the issue. The concern is over the method of payment. Besiktas want close to the full amount as soon as possible as the club is still under the watch of Financial Fair Play. The Toffees appear to be interested in spreading the fee in instalments.
Besiktas have sent a delegation to London to hold crunch talks with Everton representatives in London today.
It is worth underlining the position of Tosun. The Turkey international believes the transfer will go ahead and has been in England since new years eve.
To conclude. Tosun wants to join Everton, the Toffees want to sign him and Besiktas are happy for their star man to join the Premier League outfit. Negotiations are at a final stage and the Black Eagles understandably want the best deal possible for their top goalscorer.
Tosun could end up making his Everton debut against Liverpool on Friday if the transfer is completed by Thursday.