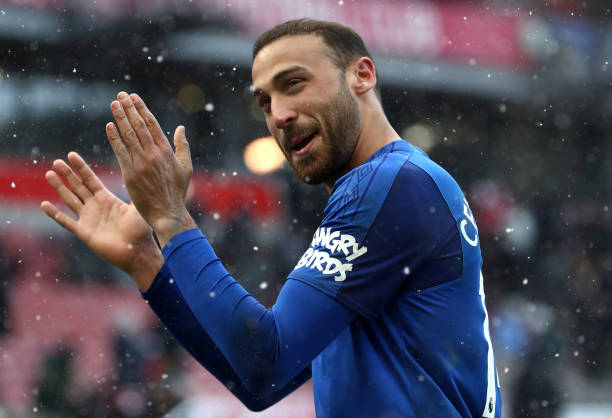 Anyone that has even remotely followed Turkish football over the past few years they will have noticed a few major changes with Mircea Lucescu's most recent call-up.
No Arda Turan, no Burak Yilmaz, no Selcuk Inan. Finally! the old guard has been dismantled.
The team was rotten to the core. A squad comprised of a gun-wielding loon, a captain who battered a journalist and a manager who drove 200 miles to have a punch-up in a kebab house. You literally could not make it up. It may sound hyperbolic but each incident mentioned actually happened.
It is refreshing to have a team with star players who care more about football than posing with media moguls and filling magazine columns.
The Young Turks
A new band of hugely talented, professional, media-savvy young Turkish players are on the path to forging a team that could rival the side that finished the 2002 World Cup in third-place.
Cengiz Under has made a name for himself at Roma for all the right reason. After a slow start he now has six goals and an assist. They are already touting him as the new Mohamed Salah. The 20-year-old showed remarkable maturity when he wasn't getting playing time. He dealt with it by training harder and working on his game.
The same applies for Enes Unal who joined Villarreal from Manchester City over the summer. After a tough start playing second fiddle to Cedric Bakambu and getting loaned to Levante he is now back at the Yellow Submarine. The powerful striker was rewarded for his hard work with a game-winning brace against Atletico Madrid just before the break.
Bizim Çocuklarr…
Son 15 dk oyuna girip A.Madridi tek başına devirdin ve Tüylerimizi diken diken Ettin Afferin be ENES.
HEPİNİZLE GURUR DUYUYORUZ… @CenkTosun_@cengizunder@hakanc10@Emremor29 pic.twitter.com/emww5e5jcu

— Arif SÜNE (@sunearif) March 18, 2018
Twenty-one-year old Caglar Soyuncu left Altinordu for Freiburg two seasons ago and is now a first-team Bundesliga center-back at Freiburg.
The next wave coming through include Trabzonspor duo 18-year-old Abdulkadir Omur and 21-year-old playmaker Yusuf Yazici who Arsenal's Mesut Ozil recently raved about.
Another Trabzonspor star in twenty-three-year-old Okay Yokuslu has also made the national team squad on merit.
What is clear is that for the first time in years, quality talents are beginning to emerge from Turkish clubs.
It is worth pointing out that the big three Istanbul clubs have been no help in this regard. There are bright talents in the academies of Besiktas, Galatasaray and Fenerbahce but the brutal truth is their respective clubs will prove to be their footballing graveyard. Unless something radical changes, the clubs mentioned above are not going to give their youngsters a chance.
There is hope. Trabzonspor, Bursaspor and a few other Anatolian clubs have the odd success story but the grand crux of player development in Turkey has shifted to Izmir.
Altinordu presents Turkey with the blueprint that could revolutionize the game. The ambitious project has gone to extremes as far as player development is concerned. The Golden Horde – the literal translation of their name – aim to create a completely, academy produced team. And they really mean it. The average age of the squad has averaged between 20-23 since promotion to the PTT. 1 four seasons ago. It will take a few years to create a pool of players large enough to pick a complete first team squad but you have to admire their dedication to the cause.
It would have been easier to sign a few experienced players and pump a bit of money into transfers to push for promotion to the top tier but it is all about the long-term plan. And that is what is missing in Turkish football. A long-term plan.
The Super Lig simply cannot compete with Europe's elite pound for pound right now. The big clubs cannot spend what the likes of Manchester City, Real Madrid and Bayern Munich do. Where Turkish football can compete and potentially overtake is in terms of player development. It all comes down to demographics. Altinordu are one of the few sides that realize Turkey's biggest asset is human resources. The country has the youngest and largest population in the UEFA zone. Despite this, Croatia which is roughly the size of the city of Izmir in terms of population puts Turkey to shame in terms of talent developed. If Turkey were to invest in player development on the same scale, the country would be a football factory. Incredibly Altinordu are the only club that have come to this realization but like all revolutions, they need a beginning.
The early results are in. Under and Soyuncu are examples of what the future could hold as far as Altinordu are concerned.
Professionalism 
What is evident with the new crop of players is a level of professionalism that wasn't there before. We mentioned a few examples of players responding to a lack of playing time by training harder. Another great example of this is Cenk Tosun.
Tosun Pasa joined Everton on a £27 million move from Besiktas in January. After winning back to back league titles and lighting up the Champions League with four goals and two assists it was evident that he was capable of playing at a Top 5 league.
There were a few concerns. The gulf between the Super Lig and Premier League was vast in years gone by. Players struggled to take the step up.
Could Tosun really play in England? I always spoke highly of the 26-year-old but deep down at the back of my mind. And after failing to score in his first two games and then getting dropped for the following four there the pressure on Tosun started to mount.
What impressed me about him was his reaction. I spoke to Tosun over the period he wasn't playing and not once did he complain. He was frank and honest, admitting he was struggling with not having a winter break for the first time in his career. He also was fully aware that he needed to adapt to the physicality of the game.
Low and behold he returned from the warm-weather Dubai training camp stronger, fitter and better adapted. Tosun scored in his first start after returning against Burnley and has four goals since.
The fact that Tosun, Unal, Soyuncu and Under are succeeding in top five leagues is a sign that the Super Lig is improving. Besiktas became the first Turkish side to finish the Champions League group stage as leaders. There are some really positive signs.
The new side are not all angels. It wouldn't be Turkish football without some controversy. Calhanoglu was banned from football altogether at the end of last season for being found guilty of taking a bung. Goalkeeper Volkan Babacan attacked journalists with his teammates – what is their problem with the media!
The Future
There is no doubt about it. The new Turkey will be built around a backbone of players including the likes of Under, Unal, Soyuncu, Omur, Yazici, Calhanoglu, Tosun. The Everton striker is just 26 but an elder statesman among a sea of players 21 and under. Could they reach the dizzying heights of the 2002 team? or even the 2008 side that reached the European Championship semi-finals? time will tell but after years waiting, the Crescent-Stars finally have a team to genuinely be excited about.