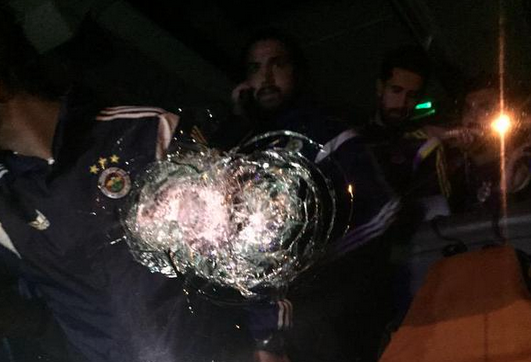 Fenerbahçe head of security Serdar Kılıç prevented the team bus was being involved in a serious crash following a reported armed attack according to board member Hasan Çetinkaya.
"The left glass exploded, the head of security Serdar Kılıç reacted to the situation and managed to hit the breaks preventing a serious crash," Çetinkaya told Fenerbahçe TV.
"The driver was bleeding heavily from his mouth and his nose, the police escort took the driver to the hospital, god willing he will be fine.
"All we can do is pray for him now."
See More
Fenerbahce News
Fenerbahce make loan bid for Palmeiras striker Henrique
Neymar: 'I support Fenerbahce because of Diego'
The driver is no longer in intensive care and is reported to be in a stable condition.
The Fenerbahçe team were headed to Trabzon airport to take their flight back to Istanbul following the 5-1 win against Çaykur Rizespor.
The team bus was attacked along the Sürmene-Araklı Highway.
The latest reports suggest that a shotgun was used in the attack that almost resulted in the bus crashing into the sea at high speed.
The Fenerbahçe players and staff were taken to the Trabzon airport via an armoured vehicle following the attack.
The motive of the attack is not clear and the assailant is still on the run.