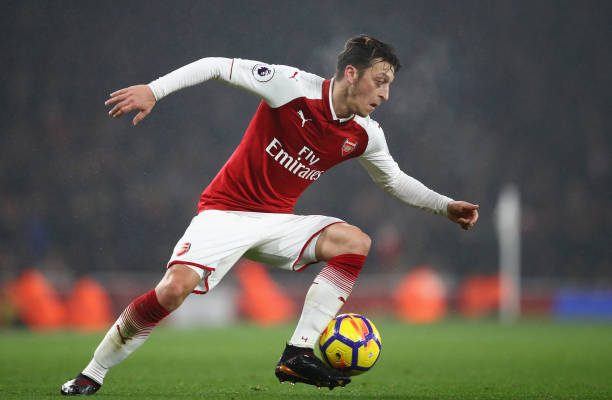 'Give Him £500k Per Week, Number 10, A Statue' – Arsenal Fans Single Out Star Man For Praise Following Chelsea Clash
Arsenal held reigning Premier League champions Chelsea to a 2-2 draw at the Emirates despite taking the lead.
Jack Wilshere put the Gunners ahead in the first half but the Blues equalised minutes after from the penalty spot.
Chelsea went onto take the lead in the second half before Hector Bellerin found a late equaliser.
Mesut Ozil started the game and was widely praised despite failing to score or provide an assist.
We took a look at how Arsenal fans reacted to his display on social media.
I enjoyed the game tonight. Some excellent attacking play on show from Arsenal . I've been critical of Ozil in the past but his performance tonight was wonderful.

— Gary Neville (@GNev2) January 3, 2018
A semi fit Ozil taking the piss pic.twitter.com/bufMi8cZPo

— Michael Timbs (@MichaelTimbs) January 3, 2018
Ozil really came to play today. Look at my wonderful son.

— Zito (@_Zeets) January 3, 2018
The way Ozil passes and starts moving again as everyone turns to look at where the ball is going is football.

— reverse_ball (@reverse_ball) January 3, 2018
Ozil's drop of the shoulder technique is worth 20 million pounds in today's market at least.

— Oris (@_Ortodox) January 3, 2018
I guess we will not be hearing Ozil doesn't perform in big games anymore.
Ozil masterclass in a big game as per

— Olly (@GiroudesqueZ) January 3, 2018
Real talk!
Ozil is a Godsend, don't let anybody tell you this isn't one of the greatest playmakers to ever grace the game. Unmatched intelligence.

— I'llGoNearPost (@ilGoNearPost) January 3, 2018
Banter!
Ozil running the show . Hasn't won a 50/50 tackle yet though so he's no good still ..

— Joshua Windass (@WindassJnr) January 3, 2018
What a display from the maestro.
Ozil hasn't trained for a week and is dropping a masterclass on the champions ???

— tom (@runthebaII) January 3, 2018
Can't disagree with that.
When Ozil is in the mood, boy is he a joy to watch

— COPA90 (@COPA90) January 3, 2018
Does Ozil deserve a new transfer? should Arsenal match his wage demands. The playmaker of Turkish origin will be a free agent at the end of the season unless a solution is found to his contract situation.
Do you see now what a player Mesut Ozil is? Give him £500k per week, number 10, a statue right next to Henry's and free living in Buckingham Palace. I'm not exaggerating.

— Lacazettes (@Lacazettes) January 3, 2018
Is Ozil playing for a transfer?
Mesut Ozil is playing exceptionally here. He's certainly wearing his I Want A Transfer Please Will Someone Buy Me boots tonight.

— Paddy Power (@paddypower) January 3, 2018
Ozil isn't even fit and he is so clearly the best player on the pitch it's a joke. All the biggest clubs in the world must be watching this licking their lips. He'd get in to the starting XI of any club in the world.

— Michael Timbs (@MichaelTimbs) January 3, 2018
There were calls for Arsenal to keep hold of Ozil at all costs.
Replacements for Sanchez are literally all over world football. Great player but eminently replaceable. Ozil however is a total one off in the current environment. Absolutely keep him at all costs.

— Brad (@ArsenalFCView) January 3, 2018
Want some stats?
Mesut Ozil's first half:

-47 passes completed(most on the pitch)
-59 touches(most on the pitch)
-3 key passes(most on the pitch)
-1 dribble completed
-1 interception

He's been miles ahead of everyone this first half

— Arsenal Statistics (@ArsenalStatist) January 3, 2018
Mesut Ozil is the only Arsenal player to have created more than one chance.

He's created 3 of their 5 chances. ? pic.twitter.com/iFEOGgSqrA

— Squawka Football (@Squawka) January 3, 2018