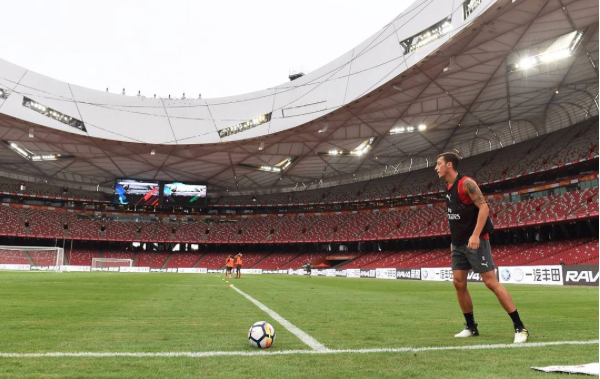 'If Mesut Ozil is allowed to join Man Utd I'm swapping clubs' –  Arsenal fans react to reports star playmaker could join Premier League rivals
Arsenal star Mesut Ozil could be on his way to Manchester United according to the Independent.
Ozil has under 12 months remaining on his contract and has yet to extend his deal.
The playmaker of Turkish origin could end up leaving the Emirates as a free transfer unless his contract situation is sorted out.
We took a look at how Arsenal fans reacted on social media to reports that Ozil could be on his way to Old Trafford.
Arsenal fans do not appear pleased that they could lose two star players to a rival club.
Two possible departures in the summer, Ozil to Man United and Alexis to Man City. Who's going to explain that one to the fans?!

— MR DT © (@MrDtAFC) October 2, 2017
United fans may have to do a U-turn on all the criticism they have dished out on Ozil.
Ozil at Arsenal – lazy, finished
Ozil linked to United – world class, best no10 in the world

?

— ?️ (@ThatchersElbow) October 3, 2017
That leads to the question, how can Wenger get them to stay if they do not want to?
How does he convince a player to stay if he doesn't want to? Hold him hostage?

— Ollie ? F.C. (@Gooner_Yahya) October 2, 2017
Not all Arsenal fans seemed too bothered.
Ozil to Man United.
Griezmann to Arsenal.

I will be fine with that.

— Mohamed ElNneny (@ElNnenyM) October 2, 2017
I can't wait to personally pack Ozil's bags straight to the airport if he is leaving for man utd. Such an overrated player wit poor attitude

— BIG BEN (@merengue4) October 3, 2017
Would Arsenal be able to replace the likes of Ozil and Sanchez with players of a similar calibre?
When Oz a.s. leave no 1 significant (A list players) comes in.. only europa league players play europa level..

— ( Philip Simmonds®™) (@10Simmer10) October 3, 2017
Are talks already underway? is Wenger not playing Ozil because he wants a United move? there are so many rumours right now.
Ozil is little bit doubt for the rest of the season, with a small might-be-joining-Utd-on-a-free so-won't-be-bloody-playing-him niggle.

— Wenger Knows Best (@wengerknowsbest) October 3, 2017
Wow!
Genuinely. If Mesut Ozil is allowed to join Man Utd I'm swapping clubs. Ozil is bigger than Arsenal. He goes I go.

— Mark (@_The12thMan) October 2, 2017
I honestly want Ozil to stay, but seeing this is making me want to pack his bags for him, and this clown criticises my support ? https://t.co/QzQFGGrVie

— MR DT © (@MrDtAFC) October 3, 2017