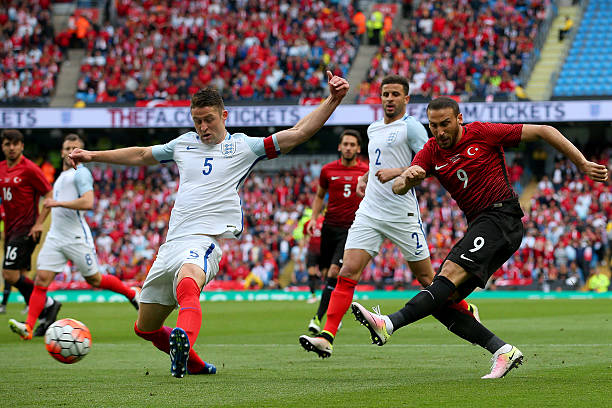 'If Morata is worth £58M this guy should be worth £200M' – Fans React To Everton Signing £27m Striker Cenk Tosun
Everton reached an agreement with Besiktas over the transfer of Cenk Tosun today.
Toffees boss Sam Allardyce revealed that they have reached a deal with the Black Eagles and that Tosun could make the squad for the FA Cup clash against Liverpool.
"We've agreed a deal and are at the stage of personal terms. Hopefully, we might be able to get him registered in time to play in the cup," Allardyce told reporters.
The Turkey international will be eligible for the Liverpool derby clash if he is registered with the FA by midday tomorrow.
We took a look at how fans reacted on social media to Tosun joining the Premier League outfit.
High praise for the Bull of the Bosphorus – Tosun does actually mean young bull by the way.
My thoughts and prayers are with Virgil Van Dijk's ankles for when they get turned inside out by Cenk Tosun tomorrow

— BolasieOnTheBreak (@FinKitch) January 4, 2018
If Morata is worth £58M this guy should be worth £200M

— LJ™ (@RealTalkUnited) January 4, 2018
And if lukaku 90m this guy must be worth 300m

— TJ (@CareFreeRomeo) January 4, 2018
Cenk Tosun please do not be sad Everton is now your new home
????????? pic.twitter.com/gwyH09jzRL

— Everton Forever (@Evertonever1) December 28, 2017
In 2010 Bitcoin was worth nothing
In 2010 Cenk Tosun was worth nothing

In 2018 Bitcoin is the highest valued Cryptocurrency
In 2018 Cenk Tosun is the highest value transfer to leave the Super Lig

Is Şenol Günes Satoshi Nakamoto ?#Beşiktaş #Everton pic.twitter.com/5NLKvwtECS

— Turkish Football (@Turkish_Futbol1) January 4, 2018
Exactly! And it is worth highlighting that Tosun has a great Champions League record. The 26-year-old has been involved in seven goals in 12 games – five goals, two assists.
Some pundits would have you believe Cenk Tosun is a massive risk for Everton because he's foreign & never played PL football. These same people said Andy Carroll to Liverpool for £35m was good business. Stereotypes abundant in poor punditry.

— Robbie Fahy (@RFahy00) January 4, 2018
Classic banter maths.
People think £27m might be expensive for this Cenk Tosun lad, but remember, if you consider transfer market inflation, that's actually the equivalent of 93p back in 2001.

— Paddy Power (@paddypower) January 4, 2018
Now for the big question, will we get a 'Come to Everton' announcement video? I'll be very disappointed if we don't.
If the Cenk Tosun announcement video doesn't have the "Come to Besiktas" music, I'll be disgusted. #EFC #Besiktas

— Gavin Devlin (@gavindevlin) January 4, 2018
Sam Allardyce: Everton are close to sealing a deal for Besiktas striker Cenk Tosun ?

➡️ https://t.co/et48Mw8yGZ pic.twitter.com/z4uTtQ2pXa

— Eurosport UK (@Eurosport_UK) January 4, 2018
Would love the Cenk Tosun reveal video to start at the Finch Farm main entrance, Allardyce to come walking over Mike Bassett style to the guy on the phone and say to the camera,will you fuck off ?

— Mark (@Markthablue) January 4, 2018
Dear @Everton. Please announce Cenk Tosun by Big Sam calling him up and asking him to come to Everton and him on the phone responding "Of course I am coming to Everton" with minions dubstep in the background. Thanks x

— Cartlon Cole (@_CarltonCole9) January 4, 2018
If Everton don't announce the signing of Cenk Tosun with a video of Big Sam on the phone asking him to LEAVE BESIKTAS then they should automatically be relegated.

— chrs00 (@chrs00) January 4, 2018

Something like this.
Cenk Tosun from Besiktas to Everton #ComeToEverton pic.twitter.com/5YuJASCdJD

— Guardiolista (@BlueCitizen007) December 29, 2017
And this is how Besiktas fans feel about losing their star man.
Kendine iyi bak @CenkTosun_ pic.twitter.com/ShjfDRAPmO

— Caner Demircan (@demircancaner) January 4, 2018
Tosun's last goal for Besiktas.
Son gol. @CenkTosun_ pic.twitter.com/JnwkbmIvl4

— Yunus Emre ÜNAL (@YunusEmreUNAL) January 4, 2018