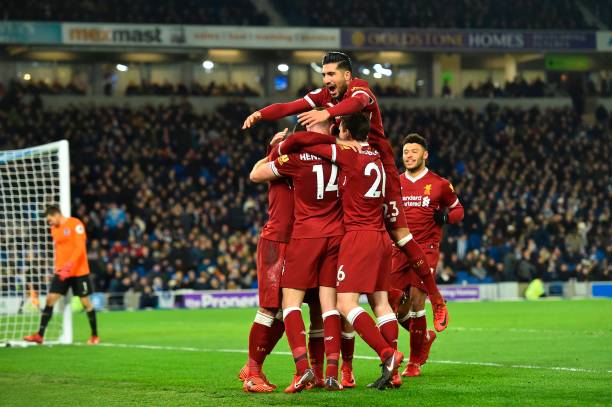 Liverpool were held to a 2-2 draw against Tottenham at Anfield in the Premier League despite taking the lead twice.
Mohamed Salah gave the Reds the lead in the first half before Wanyama equalised late in the second half with an incredible long-range effort.
There was late drama as Spurs won a penalty which Harry Kane missed. Salah went onto put the home side ahead soon after but Tottenham won another penalty just before the final whistle. This time Kane converted.
Emre Can started in midfield for the Reds but his performance divided opinion.
We took a look at how Liverpool fans reacted to Can's display on social media.
Liverpool fans were not pleased with either of Tottenham's penalty calls.
Linesman: "If he (Liverpool player) has not touched the ball he (Kane) is offside"

Eriksen: "He did touch the ball"

Referees: "Emre Can f**k off we're trying to give Spurs the win here" pic.twitter.com/e0NdQZPGI6

— Pochitivity (@Pochitivity) 4 February 2018
Good point! What was Emre doing…
Looking back at Wanyama's Thunderbastard I cant work out wtf Emre Can is doing as the ball comes to him..??? pic.twitter.com/WeJDI5TG8U

— Dave Ellis (@fullback03) 4 February 2018
Karius tried to clear it out Emre Can missed it
& what a Strike by Wanyama

BTW why is Can #LFC's captain ?
Evey-time the player who wants to leave is made Liverpool's captain#LIVTOT

— Freaky ~ DRaval (@_DRaval) 4 February 2018
Where are the Emre Can fan boys? I'm not even a fan of Hendo, but If Henderson did what Emre Can did for Tottenham's first goal, they'd be all over his back. However, because it's Can, he's exempt from criticism. Instead, let's just all pin the blame Karius

Poor from Ox and Can.

— ?? Rich Porter ?? (@ElPistolero95_) 4 February 2018
The never ending love-hate relationship between Liverpool fans and Can continues.
When you watch Emre Can nearly miscontrol the ball out of play several times in one action, are #LFC really losing that much if he does leave for a free?

— Richard Buxton (@RichardBuxton_) 4 February 2018
Emre Can is Jack of no trades and a master of deception. Nothing player

— … (@WideCreator) 4 February 2018
1. Tottenham deserved a draw
2. Our midfield was non existent
3. John Moss don't deserve another premier league match
4. Karius has done a good job so far
5. Just signing van Dijk doesn't answer our defensive deficiency
6. Emre Can was really poor, why was he there for 90 mins?

— Jay (@NepaliReds) 4 February 2018
emre can was the reason spurs scored their first goal. lazy clearance and 0 closing down absolute bollocks

— Ella McGovern (@ELLmcgovern) 4 February 2018
Should the 24-year-old have done better?
Should Emre Can do better?

— Empire of the Kop (@empireofthekop) 4 February 2018
There was some praise for the midfielder of Turkish origin, he did work hard and was aggressive.
Emre Can doesn't care who he faces in midfield. He runs, disturbs, tackle and win the balls. He's such a good midfielder.

— Ofan yo Chelsea (@SimeonAngula) 4 February 2018
You can criticise everything except Can's hair!
How greasy does Emre Can's hair look, it looks like he has washed it in a chip pan

— Fiona May (@fionamay4471) 4 February 2018
Juventus had scouts at the game. I wonder if their opinion of Can has changed at all?
Juventus really wants to get Emre Can? pic.twitter.com/Os3Ipwl71J

— Scammy Abraham (@Nigerianscamsss) 4 February 2018