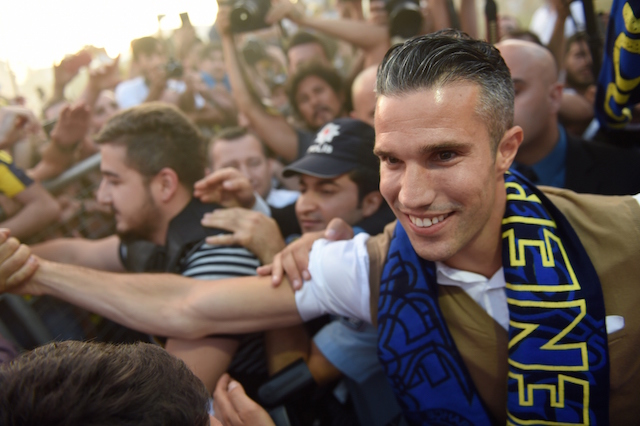 'Leading Palace To Europa Fella' – Crystal Palace fans react on social media to reports that Robin Van Persie could be joining
Crystal Palace have been closely linked with a move for Fenerbahce striker Robin van Persie in the press according to the Mirror.
The Dutch striker would return to the Premier League just two years after leaving United if the transfer were to go ahead.
We took a look at how Palace fans reacted to reports that Van Persie could be on his way to Selhurst Park on social media.
There was a mixed reaction to the report with some fans feeling Van Persie is too old to play Premier League football, while others believe he still has something to offer.
Too old, waste of a squad number and wage!

— Steve Fowler (@Podger_Fowler) June 29, 2017
If he's 70% the player he was this would be some coup!

— The Punt (@ThePunter) June 29, 2017
van persie and benteke leading palace to europa fella

— clout goggles (@CPFC_Aaron) June 30, 2017
Definately better than Yaya Sanogoals & Chammers but probably too old now

— Mr V ?? ??? (@agnostic81) June 29, 2017
@Bentekesheader omg please sign him

— Matty and STAFF (@mattoafc17) June 29, 2017
Would actually love to have van persie at palace ?

— Tom Lawrence (@tom11cpfc) June 27, 2017
Premiership might be a bit beyond him now and wouldn't come cheap. Most want us to look elsewhere.

— e-Crystal Palace (@e_crystalpalace) June 29, 2017
Perhaps he could be backup to Benteke? we are not sure Van Persie still has a full 90 minutes of Premier League football in him but the man can still find the back of the net.
The 33-year-old has 40 goals in 87 games for Fenerbahce since joining from Manchester United.
Not sure about being Benteke,s backup but maybe as an impact sub.Dont know what sort of shape he is in but am guessing de Boer does know.

— david runge (@davidrunge1) June 29, 2017
Put him together with @chrisbenteke and you will see how these two perform!!

— Esbanjador (@esbanjador) June 29, 2017
Give him the number 10 shirt and play him just behind benteke

— John Lee (@JohnLee95387587) June 29, 2017
Well if you put it like that!
"De Boer wants to bring in players aged 21-24 to reduce the average squad age"

"Palace want 33 year old Robin Van Persie"

???#CPFC

— Lee Bowman (@LeeCPFC) June 29, 2017
Arsenal fans had quite a lot to say as well. It appears there are still those in North London who have not forgiven Van Persie for leaving them.
Robin Van Persie on his way to Crystal Palace, tears in my eyes

— ArsenalCreator (@ArsenalCreator1) June 30, 2017
He'll score goals though, that much I know.

— Mister Spruce (@MisterSpruce1) June 30, 2017
Also, imagine celebrating vs the club who stood by you during injuries and times when accused of sexual assault. He's a prat, end of story

— Chris.AFC93 (@chrissy1893) June 30, 2017
Oh how the mighty have fallen

— Matty (@matty19910) June 30, 2017