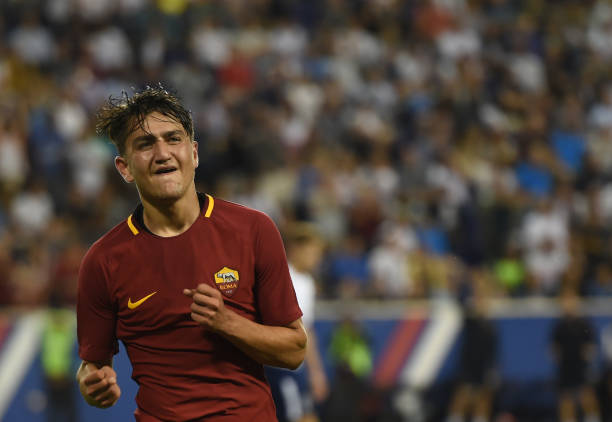 Roma starlet Cengiz Under has been closely linked with a move away from the Italian capital this season.
Eren Sarigul from Turkish-Football recently reported that Arsenal, Tottenham and Bayern Munich have expressed a serious interest in the 21-year-old in his latest piece for ESPN.
Turkey national team manager Mircea Lucescu is probably positioned better than many to comment on the young winger.
Lucescu has used Under regularly in the national team setup over the past two years.
The Romanian manager opened up about Under's future after being asked whether Arsenal or Bayern Munich would be a better fit.
"He is highly sought over which is normal for a player of his caliber," Lucescu was quoted as saying by Fanatik.
"I have good relations with all my players and have been following Cengiz's story closely.
"I have not spoke with him direclty about a transfer. Instead we talk about how things are going at Roma but I would be delighted if he gets a transfer to a major club.
"Roma is a big club do not get me wrong. If they get rid of him it will all come down to money. That's what it all boils down to at the end of the day.
"I think he will go to one of the biggest leagues and benefit from it. For example, I think he would do well at Bayern Munich."
See More: '0 Chances For Us Since Ozil Was Taken Off', 'Bordering On Disrespect' – Arsenal Fans React To Star Playmaker Display Against Brighton
Under is likely to leave Roma at the end of the season as his representatives have been unable to negotiate a pay rise.
The young winger is contracted to Roma until 2022 but is one of the lowest paid members of the squad earning around €1m per-season.
The Giallorossi have yet to offer him a pay increase and have set a €50m valuation.
Lucescu also compared Under with Liverpool ace Mohamed Salah who he replaced at Roma after his transfer in 2017.
"Cengiz keeps developing every day. His future looks really bright. His playing style and quality remind me of Mohamed Salah," he added.
"There are five years between them so obviously there is a difference in experience. It is worth comparing that Salah was like at Cengiz's current age. We will be able to compare Cengiz with Salah if he keeps developing at this rate for the next few years."
"Cengiz is a lot faster than the current Liverpool wingers. He has exceptional long-range shooting ability. But he has to learn how to play in tight positions where he does not have space with three-four players surrounding him. He also needs to control the ball better under pressure. If you ask me he should be played centrally in the future. He needs to keep cutting inside and demonstrating his quality. 
"Messi and Salah went through a similar process. They started out wide but moved to more central positions playing as a false number 9 and operate more freely."