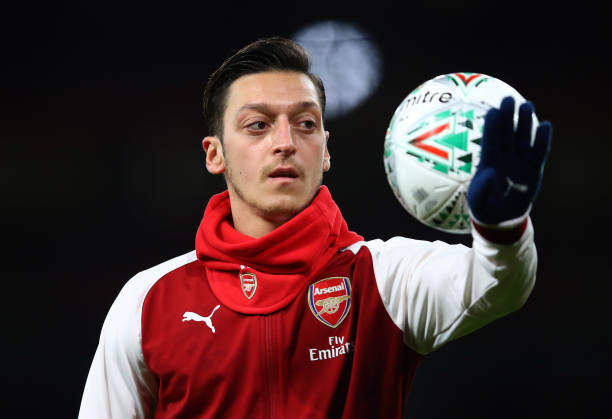 Manchester United star Paul Pogba and Arsenal ace Mesut Ozil are two of the highest valued and top paid players in the Premier League.
Both players have shown flashes of brilliance this season but have also come under fire from sections of the fanbase and media.
Gary Neville slammed Pogba during the Monday night game against Crystal Palace, accusing the France international of not taking football seriously.
Neville said the following on Sky Sports: "It's like it's not serious it's like a joke to him in terms of the way in which he goes about things. It's no wonder Jose Mourinho has left him out in the last few weeks a number of times."
Former England international and football pundit Danny Higginbotham meanwhile identified a similar problem between Ozil and Pogba.
Higginbotham claimed that both players brilliance is overshadowed by how their mannerisms are interpreted.
Ozil has been accused of having poor body language which makes him look disinterested.
You never need opponents when you've got a teammate like this.

Even look at Ozil's body language after Alexis lost the ball. pic.twitter.com/IBV3gVjstw

— IslingtonGoonerAFC (@Born_a_gooner) January 25, 2018
Pogba meanwhile has been criticised for the opposite, the powerful midfielder has been told he does not take football seriously enough due to some of his playful actions – and dabs.
49 – The number of times Paul Pogba has attempted an unnecessarily audacious pass which has failed to find a #MUFC team-mate. Dab. pic.twitter.com/1SyPtIfhAq

— Football Whispers (@FB_WHISPERS) March 5, 2018
Speaking to the Alan Brazil Sports Breakfast, Higginbotham said: "I think, if you are looking at mannerisms on the pitch, I would say he's fantastic player, but sometimes you look at Ozil and his mannerisms on the pitch and sometimes that goes against him.
"I think a lot of it with Pogba is something touched on, with the way he can carry himself.
"I think there is no better sight than when he does pick up the ball and is driving at the opposition, but I just think at times, the way Manchester United play – a little bit methodical, a little bit slow – it's difficult for Pogba to break through because teams are able to get back and sit in.I
"What I would say is, if you've got Pogba playing on the left side of the three, the amount of times yesterday [Alexis] Sanchez was looking to drop into that position – that's where Pogba wants to get into.
"So at times they were looking to get into each other's way."
Despite the criticism, Ozil has won two player of the month awards for Arsenal this season.
The 29-year-old also extended his contract and has became the highest paid player in Gunners history.