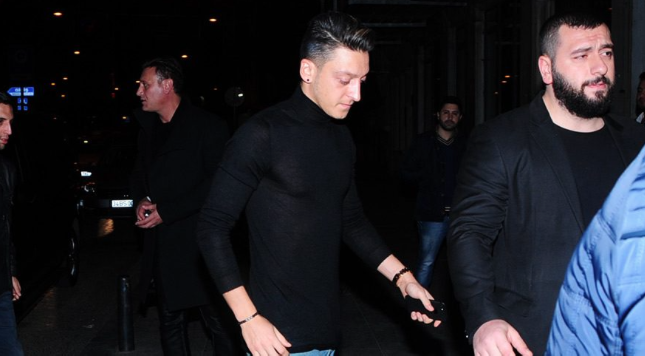 'Picasso on the ball' – Arsenal fans react to Mesut Ozil display against Everton on social media
Arsenal missed out on a top-four spot despite beating Everton 3-1 at the Emirates on the final Premier League game of the season.
The Gunners needed either Liverpool or Manchester City to drop points but both sides ended up beating Middlesbrough and Watford, respectively.
Turkish origin playmaker Mesut Ozil added to his assist tally for the North London outfit.
Ozil ended the season with 12 goals and 14 assists in all competitions this season.
What a creative description.
Ozil doesn't only create art on the pitch, he's a work of art by himself. Picasso on the ball and Mona Lisa with the ball ??

— Kajila C Kahula (@kajila_kahula) May 21, 2017
You have to feel for Ozil at times, for the amount of goal scoring chances he creates he should actually have a lot more assists to his name.
Nah I'm genuinely angry do you know how annoying it is seeing Ozil wasted playing with these retards pic.twitter.com/5tGa76u0bW

— ㅤㅤㅤㅤㅤㅤㅤ (@TheOxDrive) May 21, 2017
Ozil generally received a lot of praise for his display.
Ozil really is hitting bergkamp type of different gravy last couple of games

— Jimmy Trader (@Arsenal49notout) May 21, 2017
Small positives; Ozil has been ridiculously good these past 2 weeks. Xhaka likewise. Even Ramsey is getting into form.

— Dan Smith (@DanJESmith) May 21, 2017
Ozil is soooooooo wavey

— Bobby Axelrod ?? (@rapzie) May 21, 2017
Another impressive Ozil stat!
LANDMARK – Mesut Özil is now Arsenal's 5th all-time top assist maker in the Premier League with 42 assists, overtaking Robert Pirès.

— Mesut Özil (@MesutOzilStats) May 21, 2017
Mesut Özil has scored or assisted 25 goals (12 goals, 13 assists) in all competitions for Arsenal this season.

Considerable output. ? pic.twitter.com/dL330YlEAF

— Mesut Özil (@MesutOzilStats) May 21, 2017
Is Ozil staying or going? seem like Alexis Sanchez is on his way…
Ozil about to tweet "Ya Europa Ya" whilst Alexis packing his bags outta Emirates.

The difference.

— BallonDor #5 (@HaIaRonaldo) May 21, 2017
Ozil has just over 12 months remaining on his contract but has yet to decide whether he will be extending his deal or leaving over the summer.
When you realise Sanchez & Ozil won't be at the club for much longer… pic.twitter.com/mMhhm9iR06

— Liam Edwards (@LiamPLEdwards1) May 21, 2017
Just let that sink in.
Think Ozil will leave tbh. if he stays he will have gone 5 years without playing a single UCL quarter-final.

— _ (@TheGoonerAFC) May 21, 2017
Wishful thinking?
Ozil & Sanchez are staying

— Not Important (@meTTi14) May 21, 2017
Could it be a case of nobody wanting to pay what Ozil and Sanchez are demanding?
Can't see both Ozil and Alexis staying with no CL football. Equally can't see where they'd go.

— Dan C (@DACrookster) May 21, 2017
Is it too soon for these kind of jokes?
Ozil was scoring worldies against Ludogrets and Arsenal fans were so happy… not knowing he was practicing for the Europa League

— Footy Humour (@FootyHumour) May 21, 2017
Sanchez, Ozil and Bellerin this September. pic.twitter.com/kNchhPOxiW

— Tolu. (@tolusaba) May 21, 2017
Hi, my name is Ozil. How can i ASSIST you… in the Europa League?

— Oba-Dafidi #MUFC (@Kinging_David) May 21, 2017