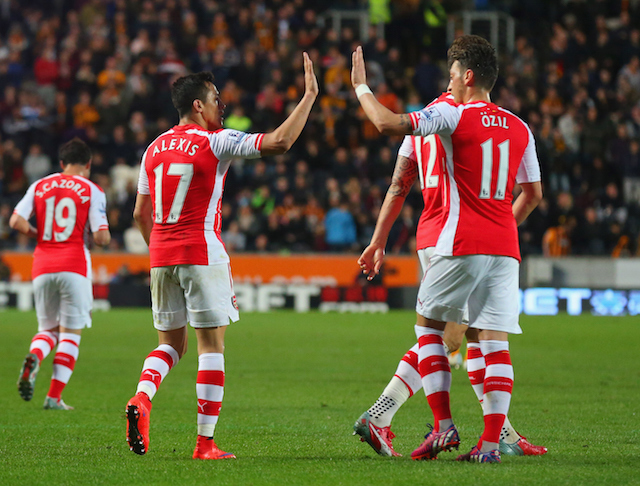 Mesut Ozil unsure of contract-rebel Alexis Sanchez's future at Arsenal 
Mesut Ozil has cast doubts over his teammate Alexis Sanchez's future at Arsenal.
Both Mesut Ozil and Alexis Sanchez have just 12 months remaining on their contracts with the Gunners.
Ozil has recently signalled his intention to stay at the north London based club.
"It is definitely my preference to stay," Ozil said on Wednesday.
"Once everyone is back in London, we will sit down and discuss the future. I have always said that I feel very good at Arsenal."
However, the 28-year-old isn't so sure that Alexis Sanchez will also commit his future to the club.l
"I hope Alexis stays but I do not know what the status is to be perfectly honest," Ozil told NBC Sport.
"I value him a lot as a player and he is very well suited to the game Arsenal play.
"From a personal view I would really appreciate it if he stays. However, it's the players decision after all and there's not much more I can comment on that," Ozil went onto say.
"It would hit the team quite hard if he left, because he's a player who always delivers. It would be a setback to winning the title but in the end it's the players decision."
Sanchez was Arsenal's top performing player last season with 24 goals and 10 assists last season in the Premier League.
Ozil meanwhile failed to live up to his high standards last term despite registering 14 assists and 12 goals in 44 apperances.
Arsenal ended the season in fifth place and will miss out on UEFA Champions League football in the upcomming season.
Ozil travelled with the Arsenal squad to Australia as part of their pre-season tour. Sanchez meanwhile has been given an extended leave after representing Chile at the Confederations Cup.
The Gunners will take on Bundesliga champions Bayern Munich on 19 July in Shanghai and London rivals Chelsea on 22 July in Beijing.