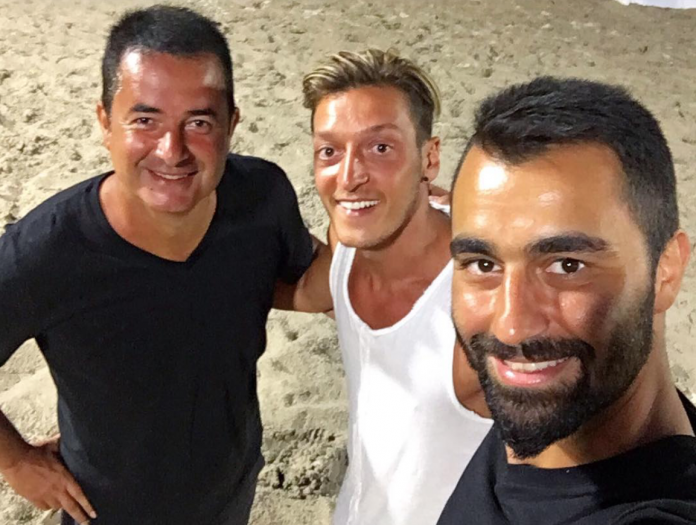 Photo: Mesut Ozil Poses With Turkish TV Mogul Amid Rumours of Summer Exit
Mesut Ozil has enjoyed a pretty eventful summer holiday which has seen him visit Los Angeles, Ibiza and Turkey.
The Arsenal star was spotted in Turkey alongside former Miss World Turkey Amine Gulse, who he is reported to be dating.
Another interesting personality Ozil was seen hanging out with was Turkish TV mogul Acun Ilicali.
Ozil and Ilicali have been forging close ties over the past few months amid rumours that the 28-year-old could be headed for a Fenerbahce move.
The Telegraph reported in May that Fenerbahce are actually the only side interested in signing the Gunners ace.
Ozil has himself has admitted that he grew up supporting the Yellow Canaries.
"Everyone knows I am a Fenerbahçe fan," Ozil told the Turkish outlet Sabah.
Ilicali has close ties for Fenerbahce president Aziz Yildirim and there have been rumours bubbling for months that Ozil will end up in Turkey at some stage in the future.
Ilicali shared a photograph alongside Ozil on his Instagram describing him as being a 'real world star' in his caption.
Ilicali is the founder of "Acun Medya" which has broadcast television shows such as O Ses Türkiye (Turkish version of The Voice), Yetenek Sizsiniz Türkiye (Turkish version of the Got Talent series), Survivor, Var mısın? Yok musun? (Turkish version of Deal or No Deal) and Yok Böyle Dans (Turkish version of Dancing with the Stars).