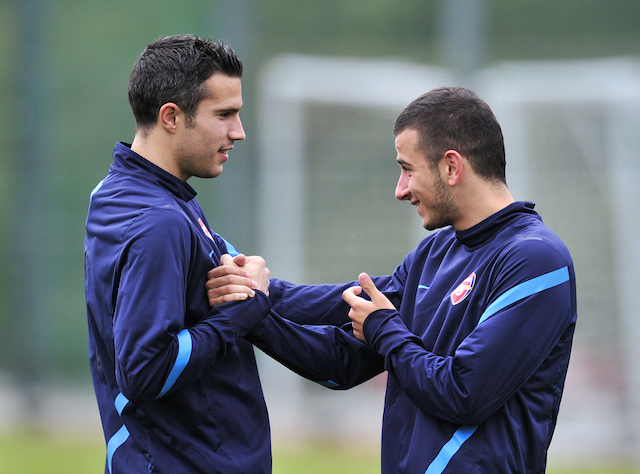 Robin van Persie reveals he has 'no hard feelings' with former Arsenal after bust-up
Oguzhan Ozyakup declared his friendship with Robin van Persie over after their bust up in the last Istanbul derby between Besiktas and Fenerbahce.
Van Persie goaded Ozyakup while celebrating the winning goal in Fenerbahce's 1-0 victory, sliding on his knees right in front of the 24-year-old and shouting in his direction.
Van Persie & Ozyakup – great friends at Arsenal – arguing on the field tonight. pic.twitter.com/0BiqTMPMcf

— Sam (@samuelJayC) February 5, 2017
See More: Battle of the Titans – Arsenal v Man Utd: Premier League Preview
Ozyakup was not amused and stated that their friendship was over after the game
"I have a lot to say about the incidents on the field," Ozyakup was quoted as saying by Fanatik. "But I won't say them.
"Just one thing… I was very good friends with a certain player on the field.
"That changed today. Sometimes you see the real face of a footballer on the field."
Van Persie has however, revealed that he has 'no hard feelings' towards Ozyakup and that what happens on and off the pitch is completely different.
"What happens on the pitch stays on the pitch, I have no problem with Ozyakup or anybody else," Van Persie was quoted as saying by Turkish-Football.
"When I am on the field I will do what is necessary to win but off the pitch we have no problems."
Ozyakup and Van Persie had been close for years after having both been part of the same Arsenal team.
The Turkish international joined the North London outfit in 2008 and has revealed in the past that he looked up to Van Persie.
Back in 2011 Ozyakup told Arsenal.com: "To be honest it is mostly Robin [who I look up to] because he is Dutch and he really looks after me outside of football as well.
"There are more off-field things as well and I am really, really happy he looks after me like this. I never expected him to help me that much but I am really thankful that he does that for me.
"Obviously on his Twitter feed he says little things like congratulations – it is those little things he does that are perfect and what I look up to.
"The Manchester United game when I was on the bench he said, 'when you come on I know you can do anything with the ball but without it make sure the tackles are for you.
"He gives you little tactics and it is unbelievable."
Ozyakup also took down several pictures taken with Van Persie on holiday and nights out on his social media accounts.
Both players are expected to play in the Istanbul derby tomorrow.