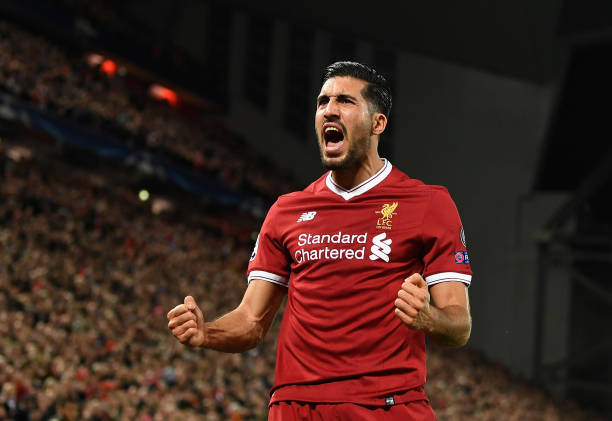 Liverpool star Emre Can put on a man of the match display in the 3-0 win over Huddersfield on Tuesday night in the Premier League.
The victory ended a four-game losing streak and kept the Reds firmly in the top-four.
The midfielder of Turkish origin scored the opening goal and won the penalty which Mohamed Salah converted.
Reds legend Steven Gerrard revealed that he was impressed with Can's display before moving onto the more pressing matter, his contract.
The 24-year-old will be a free agent at the end of the season unless he strikes an extension deal.
Can has yet to openly state whether he plans to stay or leave, keeping his options open.
Gerrard gave the Germany international some advice over what he would do.
Steven Gerrard Offers Liverpool Star Advice Over Anfield Future After Reports Of Summer Exit
The Germany international is out of contract at the end of the season and is yet to sign an extension to his existing deal.
"I think Liverpool have made him a better player and in Jurgen Klopp and his coaching staff I think they are perfect for him," Gerrard said on BT Sport.
"I can't make decisions for Emre Can but for me, in his shoes, I would be a bit more patient with Liverpool and I would hang on. I think Liverpool – the club and the fans – have a lot of belief in him.
"I think you can see that he's been asked the question many times and if he had decided he was going to stay at Liverpool, I think everyone would know that by now.
"You still have that little bit of hope as a Liverpool fan that he might change his mind but for me, for it to go to the back end of January it's a concern."
Can has not categorically ruled out staying at Liverpool, or leaving but unless his current situation changes he will be a free agent at the end of the season.
Meanwhile, Juventus chief Giuseppe Moratta revealed they are in talks with Can's representatives but also admitted a deal has not been struck.
Marotta told RMC Sport: "We are in optimum position to achieve all the objectives we have set out.
"Talks are well underway with Emre Can, but the negotiations are not at all concluded."