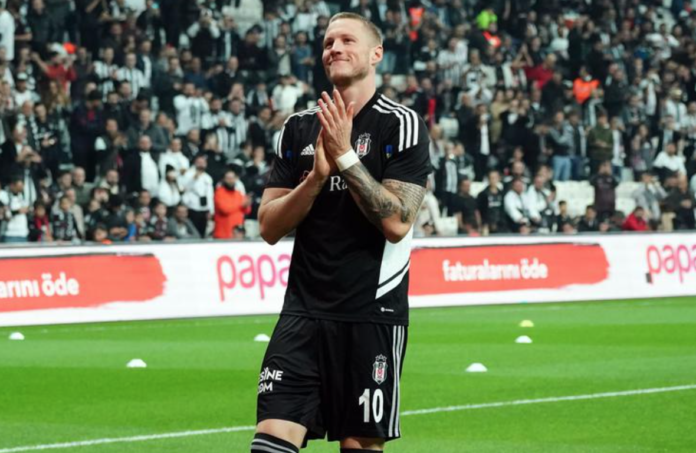 Wout Weghorst has skipped training and packed his bags ahead of travelling to England to complete his move to Manchester United according to Fanatik.
Per the source, Weghorst did not turn up to training and he cleared out his room today.
READ: Arda Guler named in UEFA Players to Watch in 2023
Weghorst was filmed leaving Istanbul and arriving at the airport today.
✈️(ÖZEL) Weghorst, İstanbul'dan özel uçak ile ayrıldı
📌İngiliz ekibi Manchester United ile anlaşan Hollandalı golcü Wout Weghorst, İngiltere'ye gitti
📌Manchester United, kiralık sözleşmenin feshi için Beşiktaş'a 3 milyon euro ödeyecek pic.twitter.com/xgWtNTBqt2

— DHA Spor (@dhaspor) January 12, 2023
The Netherlands international is expected to travel to England today and undergo his medical.
The move to United is expected to be a loan transfer, it is unknown whether there is an option to buy.
Besiktas paid €1.5m in fees to Weghorst's parent club Burnley and to the player in wages over the first half of the season.
The Black Eagles will be paid €3m by United to terminate the loan deal early and will therefore earn a €1.5m profit.
Weghorst joined Besiktas on a one-year loan from Burnley over the summer but did not have a clause to cancel his contract in January.
United were therefore required to agree terms with both Burnely and Besiktas to go ahead with the transfer.
After denying that an agreement had been reached for the last few days Besiktas have finally accepted terms from united and the transfer will go ahead.
Besiktas were reluctant to part ways with Weghorst as they are involved in the title race and the 30-year-old has been a key player.
The Istanbul giants wanted to line up a replacement first however, Weghorst forced his hand after appearing to bid farewell to Besiktas fans after scoring in the 2-1 win over Kasimpasa last weekend.