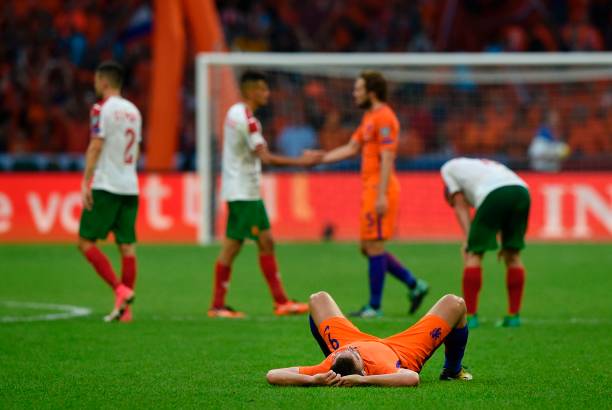 Tottenham striker who scored just six goals last season explains why he struggled
Tottenham striker Vincent Janssen has managed to win over the fans at his loan club Fenerbahce in a short space of time.
The Dutch forward has three goals – three shy of his total for Spurs last season – and four assists – equal to his Tottenham tally – this campaign.
Janssen revealed that he struggled at the North London outfit because he failed to get into the rhythm due to a lack of first team opportunities.
The 23-year-old also claimed that his lack of playing time made it difficult to stay fit.
"I joined Tottenham amid high expectations," Janssen told Hurriyet.
"I struggled to catch a rhythm, getting playing time was difficult enough and that had a negative impact on my fitness. 
"I just struggled to settle into the side."
Janssen underlined that he has been training a lot harder in Turkey and that has been one of the main factors behind his form.
"At Fenerbahce it has been different, I have been training a lot harder and taking better care of myself," he added.
"The manager rewarded my hard work in training with a first team role.
"I've now found a good rhythm and it is paying off."
Janssen had kind words for Spurs, describing Tottenham as being one of the biggest clubs in England with one of the largest fan bases.
"Tottenham are one of the biggest club in the Premier League with one of the biggest fan bases," he said.
"Fenerbahce are similar in that regard, the fanbase is incredible, they are worldwide."
Janssen recently won the respect of football fans and pundits in Turkey after the 6-0 Turkish Cup win over Adana Demir.
The striker won a penalty in the 90th minute but instead of stepping up for his brace he showed grace and allowed Ahmethan Kose to take the spot kick.
Head coach Aykut Kocaman appeared to say, 'Bravo Janssen, god bless you.'
Vincent Janssen won a penalty but let youngster Ahmethan Köse take it ? His boss said 'Bravo Janssen, God bless you' pic.twitter.com/jqG0nvnrC7

— Turkish Football (@Turkish_Futbol1) November 29, 2017
The 20-year-old forward stepped up and scored his first goal of the season.
Ahmethan Köse siftahı yaptı ???? pic.twitter.com/m2VGXhh00d

— ALACA? (@Ahalabilca10) November 29, 2017
Kose thanked Janssen after the game: "I just want to thank Janssen, he picked the ball up and gave it to me. We share the same room and have become close friends. He always told me I will start scoring."