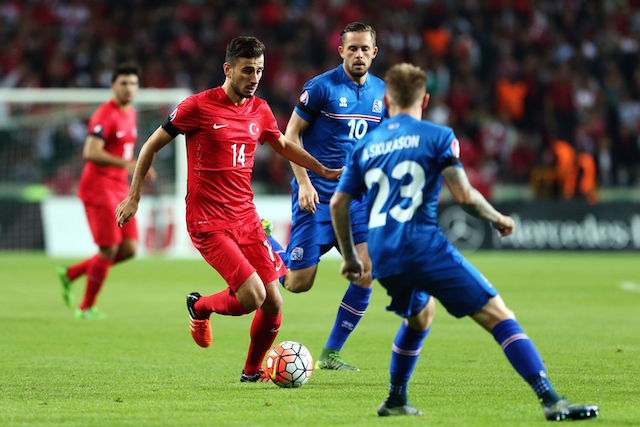 Turkey hasn´t reached the World Cup since 2002
15 long years have passed since Turkey last stepped the grounds of a World Cup game. Last time was in 2002 and it was done with class reaching the semi-finals in South Korea and Japan. Since then the national team has been adrift with no further qualifications, for Russia 2018 the team looks with fair chances but still one step behind its strongest rivals.
After that achievement in 2002 fans kept their hopes high to see the Turkish side on its way to become a football world class super power, but the hasn´t been the case. Only a few discreet presentations on the Euro Cup, not counting this last presentation were Turkey did not manage to move ahead from the group stages in France despite being one of the top favorites in its group.
Qualifications for World Cup Russia
The campaign cannot be discredited, but the squad still needs to step up results in in order to qualify considering only two teams from each group qualify directly. After 5 games Fatih Terim's men stand fourth in Group 1 with 8 points, 2 points behind second place Iceland and 5 points away from leader Croatia who has 13.
Croatia is already with one foot in the World Cup, so it is a contest for place #2 against Iceland.
Results
The first game against powerful Croatia ended in a draw on an away game, a great result.
The 2-2 against Ukraine was acceptable, but home points are dear and this game could´ve been costly.
The 2-0 loss against Iceland was the decisive game to keep the qualifications under direct control, considering this was an away game the Turkish side is obligated to win by at least 2 or 3 goals to regain control of the qualifications when Iceland visits.
Following came two victories over Kosovo and Finland, the must-not-loose games, and now the second part of the qualifications will begin with 2 new points at stake.
Ukraine sit in third with the same 8 points but less goals in favor. The decisive games will be against Ukraine away and Iceland at home. A draw away and a victory at home can qualify the Turks, considering future victories against Kosovo and Finland once more and at least a draw or victory from Croatia. If this scenario holds Turkey should have no issue to qualify to the World Cup 2018.
Turkey vs Kosovo – June 11
Next match will be against Kosovo, recently defeated by the Turks. The Kosovo side has only achieved 1 point and can literally say good bye to the World Cup. The hold 14 goals against with one of the poorest defenses in the entire qualification phase. This is a must win for Turkey or else dreams could end abruptly. Not only should they win, but score more than 2 goals just in case it comes to who has more goals against Iceland or Ukraine.
The strategy should be focused on full attack mode with fast attackers in reserve for the last 20 minutes of the game. Secure the game in the first 60 minutes with 1 goal and finish it with 2 extra in the last 15 minutes with fresh players.
Considering the importance of this game for the overall campaign for Turkey, bettors around the world are taking the Betdaq promotion code to take on Turkey beating Kosovo for more than 2 goals. Odds are strong for in-play goals during the last 15 minutes and an Over score. AN easy to read game.
Iceland vs Croatia – June 11
Iceland will face Croatia that same day, the Turks are counting on a Croatian victory to guarantee place number 2 and a head start over their direct rivals. A draw is also welcome, a dangerous scenario but it proofs Croatia is not all that strong and place number 1 can be taken. Turkey world be just 3 points behind and can claim those when they face the Croatians by the end of the year.
The next game after Kosovo will be Ukraine in September and then Croatia 3 days later. This will be the decisive stage. With a victory over Kosovo and Ukraine, a draw against Croatia will again be a positive result.