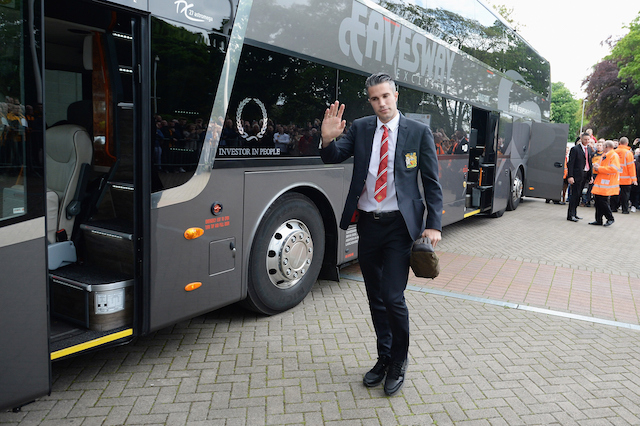 Robin Van Persie completed his transfer to Fenerbahçe on a three-year deal from Manchester United in an official signing ceremony held at the Şükrü Saracoğlu stadium.
The Dutch star sparked controversy when he stated that 'the little boy within' convinced him to join United from Arsenal three-years ago.
Van Persie was asked if the 'little boy' played a role in his transfer from the Red Devils to Fenerbahçe.
"First in difficult choices you make in life you always look at the positive and negative things in any situation, you speak to people you love they give you advice and at the end you have to make your decision from within," Van Persie was quoted as saying by Turkish-football.com.
"This is a different situation to three years ago I am very glad I am here I think Istanbul and Turkey is a wonderful place this is a real footballing country. I think there was 17-18 thousand fans which was a new experience for me that humbled me."
The Netherlands international was unveiled in an official signing ceremony held at the Şükrü Saracoğlu stadium in-front of nearly 20,000 fans.
Van Persie signed his three-year contract in-front of the supporters and later did kick-ups on the pitch with his son.
Fenerbahçe are currently managed by Portuguese coach Vitor Pereira and finished last season as runners-up in the Süper Lig.