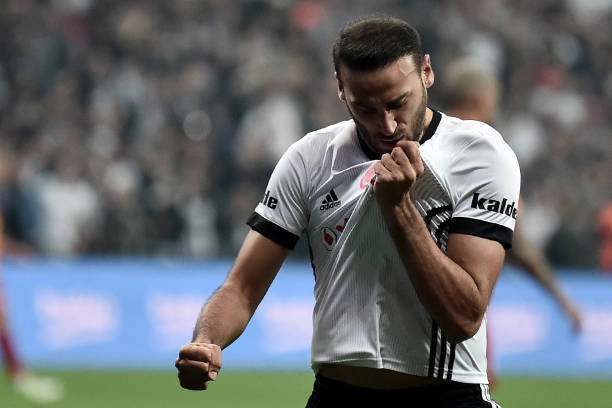 'We Have Signed The Turkish-German Born Pele' – Everton Fans React To Reports £25m Transfer Cenk Tosun
Everton have beat off competition from several Premier League sides to agree a deal for Besiktas striker Cenk Tosun according to the Guardian.
The Toffees have agreed a £25m deal with the Black Eagles to sign the Turkish international.
Sources close to Besiktas have also revealed to Turkish-Football that there is an agreement in place.
We took a look at how Everton fans reacted on social media to reports that Tosun could end up being their latest transfer signing.
Interesting description!
After watching 10 minutes of Cenk Tosun on YouTube, it's with a heavy heart I must admit that we have signed the Turkish-German born Pele.

— Connor Bennett (@ConnorBennett14) December 27, 2017
Everton fans seem pretty excited with the prospect of Tosun joining. And so they should be. The star man won back to back league title and has been scoring for fun in the Champions League.
Great to see the club active, setting and attaining priorities. Wish Tosun all the best in the Royal Blue shirt, and for more activity in the window. COYBs!
Everton agree £25m deal with Besiktas for Turkey striker Cenk Tosun https://t.co/A1mkaOJQoh

— the esk (@theesk) December 28, 2017
Cenk Tosun is a great signing for Everton in my opinion. He's a natural scorer and surely has got what it takes to make it at the top level.

— Aaron (@AaronEArmstrong) December 28, 2017
Cenk Tosun doesn't have an ordinary diet. He eats defenders for breakfast and goalies for dessert

— Efe (@feneridelmedel) December 28, 2017
Even some Liverpool fans agree.
This guy is good Dave

— Babs Van Dijk ? ?? (@BaabsDia) December 27, 2017
I have watched some of his UCL games this season, he is not that bad tbh

— ٠•●G●•٠ (@Proud__Scouser) December 27, 2017
I tell you what Dave he's a good bloody signing

— #PrayForBurma (@Haych_K) December 28, 2017
Better than Lukaku? I would probably have to agree in all honesty.
Went turkey when I was 12 and can safely say Cenk Tosun is better than lukaku

— Joe Connolly (@JoeConnolly17) December 27, 2017
Tosun was gearing up for a Champions League Last 16 clash against Bayern Munich after stealing the show in the group stages scoring four times and providing two assists.
Oh and he also picked up the goal of the group stage award.
The 26-year-old scored 24 goals last season, has won back to back league titles and also netted 13 times in all competitions this term.
Cenk Tosun swerving the Champions League knockouts to chase long balls from Cuco Martina. Is right lad.

— Oumar God (@ViewFromGwladys) December 27, 2017
A hidden gem indeed!
So we got our 'Turkey' as early as possible for 25m euro's… Cenk Tosun from Besiktas is almost confirmed, looks a good striker, let's hope for once we manage to sign a hidden gem!

— Syd (@syd_EFC) December 25, 2017
Bit salty?
After being linked with Aubameyang it looks like Everton will sign Cenk Tosun from Besiktas instead.

— DaveOCKOP (@DaveOCKOP) December 27, 2017
Interesting logic.
For £75 million you can buy Cenk Tosun 3 times, which equates to THIRTY NINE goals for Beskitas this season

How many has Van Dijk scored for Besiktas this season…? Exactly.

— Andy Castelf (@AJ3) December 28, 2017
Don is onboard!
I really hope @Everton get Cenk Tosun I've recommended him to all the managers I speak to!!!!' What a talent!!!!!!

— Don Hutchison (@donhutch4) December 28, 2017
And that is the end of that.
Big Sam signs Cenk Tosun from Besiktas for £25M for a number of reasons but mostly because Big Sam can do whatever the hell he wants.

— Paddy Power (@paddypower) December 28, 2017