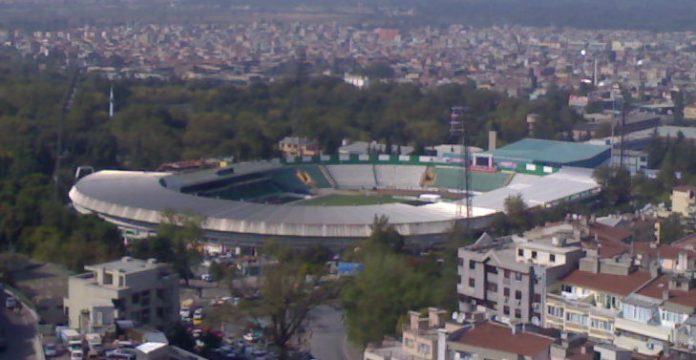 Bursaspor 3-3 Trabzonspor: Raining Goals in Bursa [divider]
Bursaspor drew 3-3 against Trabzonspor in a thrilling game at the Bursa Atatürk stadium.
The heavy rain did little to dampen the passion of both sides. Trabzonspor got off to a flying start when Özer Hurmacı opened the scoring on 16 minutes.
Fernandao equalised soon after from the penalty spot for his eight goal of the season.
Nineteen-year-old Ozan Tufan hit the back of the net just two minutes after to give Bursaspor the lead for the first time in the game.
However, Bursaspor were denied going into the half time break with the lead when Yusuf Erdoğan equalised with a brilliant free-kick effort on 45 minutes.
Volkan Şen regained the lead for Bursaspor on 53 minutes for his fifth goal of the season.
Trabzonspor equalised again late on when Mustafa Akbaş headed the ball into the Bursaspor goal.

Bursaspor moved into seventh place following the draw while Trabzonspor moved into fifth.
Bursaspor: 3 – 3 Trabzonspor
Stadium: Atatürk
Referee: Bülent Yıldırım, Baki Tuncay Akkın, Serkan Gençerler
Bursaspor: Harun Tekin, Şener Özbayraklı, Civelli, Şamil Çinaz, Aziz Eraltay, Ozan Tufan, Belluschi, Volkan Şen, Bekir Yılmaz (. 86 Holmen), Fernandao (. 89 Enes Ünal), Bakambu (. 72 Ozan İpek)
Trabzonspor: Fatih Öztürk, Bosingwa, Medjani, Mehmet Ekici, Sefa Yılmaz (. 59 İshak Doğan), Özer Hurmacı (. 59 Majeed), Constant, Mustafa Akkaş, Yusuf Erdoğan, Fatih Atik, Yatabare (. 75 Cardozo)
Goals: .24 Fernandao (penaltıdan), .28 Ozan Tufan, . 53 Volkan Şen (Bursaspor), . 16 Özer Hurmacı, .45 Yusuf Erdoğan, .81 Mustafa Akbaş (Trabzonspor)