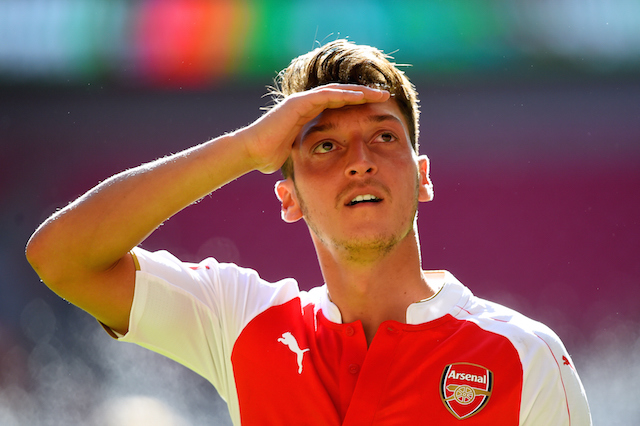 Craig Bellamy set social media alight yesterday evening when he stated that he would opt to play Aaron Ramsey ahead of Mesut Ozil in the no. 10 role for Arsenal.
"Iv known Ramsey since he was five years of age, I would play him central before I would play Ozil," Bellamy said live on Sky Sports Monday Night Football.
"I know this may be a difficult statement to make at the current time.
"watching his game and watching him develop, centrally he is one of the top players in world football."
The former Liverpool and Manchester City forward's statement come during an impressive spell of form for Ozil.
The World Cup has scored four goals for the Gunners and has provided 12 assists in 20 games this season.
Ozil also played a staring role in Arsenal's victory over Sunderland in the Premier League last weekend.
The 27-year-old received a rating of 8.5 from WhoScored making him the man of the match, Ozil made five key passes and took 122 touches on the ball during the game.
Arsenal have 30 points after 15 games and take on Olympiakos in the UEFA Champions League next week. Arsene Wenger's side need to beat the Greek Super League side by at least two goals in order to qualify.
We took a look on social media to see how Craig Bellamy's comments went down with Arsenal fans.
Bellamy pretty much saying Ramsey is better than Ozil – ok mate…

— Damian McMenzie (@damomac1892) December 7, 2015
https://twitter.com/Wilshereinho10/status/673997166642380801
Craig Bellamy saying he'd play Ramsey in #10 before Ozil is the joke of the day, really is

— Mr Hamza. (@hamzabello) December 7, 2015
https://twitter.com/njm1211/status/673997434863923200
Bellamy was doing so well until he said Ramsey over Ozil

— JC GLXY (@Manofthemiddle) December 7, 2015
"I would start Ramsey in the middle before Ozil" – Craig Bellamy, December 2015. pic.twitter.com/hgalxsVilH

— Jamie King (@JamieKing89) December 7, 2015
Craig Bellamy would play Aaron Ramsey ahead of Mesut Ozil in the no. 10 role apparently 😳 are you sure?!

— Glen Durrant (@GlenDurrant) December 7, 2015
https://twitter.com/TurkzZ/status/673997443256729601
See More
Arda Turan suspended for first Barcelona Champions League game
Man Utd & Fenerbahce target Robben rules out move