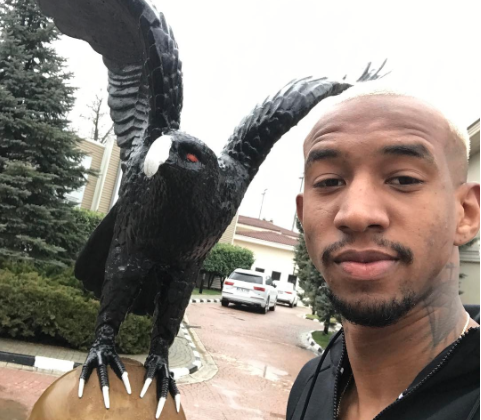 £21m Man United & Liverpool midfield target faces uncertain future, says Turkish league giants boss
Besiktas star Anderson Talisca faces an uncertain future according to club president Fikret Orman.
Talisca has a £21 million release clause fee set by his parent club Benfica.
Orman reiterated that he would not be able to activate his release clause but did underlined that Talisca has a two-year loan deal with Besiktas and has not decided on his future.
The club president stated that Talisca is happy at Besiktas and that if his release fee is not activated he will stay put.
"Look Talisca is happy at the club, we have out budget and will not be able to pay his release fee but remember he has a two-year deal with us," Orman was quoted as saying by Turkish-Football in a speech at the Kabatas Boys College.
"We wil see what the future holds for him, nothing is certain yet."
See More: 3 reasons £22m Talisca would be a success at Manchester United
Ultimately Talisca's future will come down to whether his release clause is activated.
Turkish-Football have already reported that both Manchester United and Liverpool have been scouting Talisca with the view to buy.
Takvim recently reported that Liverpool are prepared to activate Talisca's release clause.
According to O Jogo, Liverpool were on the verge of signing him for £21 million last summer but the deal fell through as he was not granted a work permit.
As things stand his work permit issue could prove pivotal in whether he ends up leaving for a Premier League side.
The FA could grant him a waver to play in the league as a special talent but as things stand he would not be able to play.
United manager Jose Mourinho brought up his work permit issue back when he was Chelsea manager.
In a public spat with – then – Benfica manager Jorge Jesus over who discovered Talisca.
Mourinho claimed that Benfica did not actually discover Talisca and that the only reason he was not in the Premier League was because he did not have a work permit.
"I think Benfica hired well… They say Talisca is unknown, but he is so unknown that he's only not playing in England because of a work permit. If he had, he was here! There were many Englishmen, great teams and important, they wanted. Moreover, there were those who wanted to hire, even though he could not play for now. wanted to hire, put in a minor league and hope that eventually came to the selection, and then get the work permit," Mourinho was quoted as saying in the Record.
Talisca has been in great form for Besiktas scoring 11 times and providing six assists in all competitions.
The 23-year-old provided an assist in the 2-1 defeat against Lyon in the Europa League quarter-final last week.
Talisca is almost certain to start for Besiktas in the return-leg tie in Istanbul on Thursday.