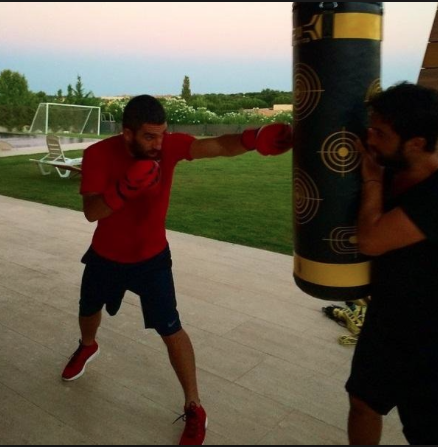 Barcelona fans react to Arda Turan display on Twitter following miraculous comeback against PSG
Barcelona needed to score at least four goals at the Camp Nou to stand any chance of knocking PSG out of the Champions League Last 16 after losing the first-leg 4-0 in Paris.
For an hour it looked like Barcelona were about to pull off an upset. 3-0 up with half-an-hour left to get a fourth that would have levelled the tie. Then Edison Cavani scored in what looked to have ended the tie. Barca now required an additional three goals. It looked impossible but that is exactly what Barca pulled off in an absurd comeback.
See More: For the latest Arda Turan news and everything else you ever wanted to know about the Barcelona star
Arda Turan was brought on for Andres Iniesta on 65 minutes and Barca found the three goals they needed after his introduction.
We took a look at how Barcelona fans reacted to Turan's display on social media.
You have to give Turan top marks for keeping faith after the 4-0 defeat in the first-leg.
16/02/2017: Arda Turan – 'It's not over yet'
8/7/2017: Barcelona pull off the greatest comeback in Champions League history ?? pic.twitter.com/CeP8ao6GEG

— Turkish Football (@Turkish_Futbol1) March 8, 2017
A lot of fans were quite disappointed that Turan did not start ahead of Rafinha.
Enrique would argue if it ain't broke don't fix it, Rafinha has played an important role in his 3-4-3 setup following the PSG defat in Paris.
Some supporters were however, starting to throw the towel in and many on social media called for Turan to be brought on.
Luis Enrique is an idiot for Starting Rafinha over Arda, this man has thrown away both games vs PSG smh cant wait for his exit https://t.co/7q361FOseO

— Late (@WMarpeZ) March 8, 2017
I think rafinha should come off for Arda Turan…he would make PSG pay for all those spaces that they're giving up

— Yung Milli ™ (@CcK_Family) March 8, 2017
Bit extreme perhaps
Arda is gonna come and bomb everyone at psg

— Sergio (@sergiofer17) March 8, 2017
Brings tears to our eyes
Gif | Messi and Arda Turan. pic.twitter.com/zpvCwebsZc

— Catalan Edition (@CatalanEdition) March 9, 2017
Well that backfired
With Cavani's goal and the sub Arda for Iniesta, the chance of comeback is aproximately 0%.

— Paul (@paul_dinamita) March 8, 2017
Turan almost scored soon after his introduction, his shot was saved off the line.
Arda was close to getting on the score sheet tonight! #Barca pic.twitter.com/7gT4d9C3gD

— Red&Yellow (@Ataqoz) March 9, 2017
Barcelona scored three goals after Turan's introduction and rightfully earned praise for his efforts after the game.
fuck Barca but what a comeback. Arda Turan gets slagged off by Barca fans too much, was class tonight

— föölish bandit (@kyesut) March 8, 2017
Loved the passion and persistence Arda Turan brought once he came in the match even when we weeded to score 3 goals

— FCBusquets (@LaMasiaFutbol) March 8, 2017
We just going to ignore that they gave up until the goat Arda came on

— Elias (@EliasUyar) March 8, 2017
Pretty epic tweet
You call it "football team", we call it "Barça". You call it "miracle", we call it "normal" #ForçaBarça pic.twitter.com/vaa30IgnMd

— Arda Turan (@ArdaTuran) March 8, 2017