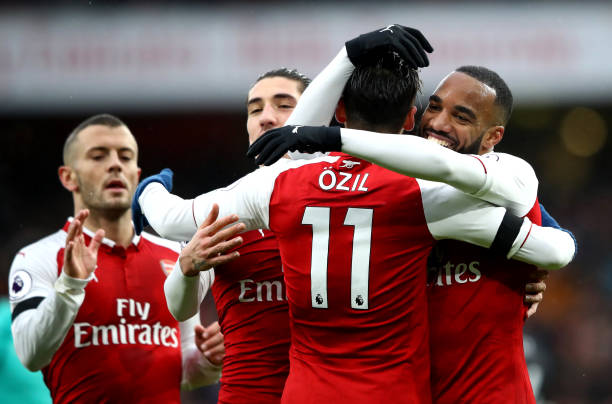 Sky Sports commentator and former Arsenal striker Alan Smith has revealed his thoughts regarding Mesut Ozil, following Sunday's clash with Man City.
The Gunners suffered a 2-0 defeat at home in their opening game of the 2018/19 Premier League season.
Ozil penned a new deal late last season and was handed the No.10 shirt following Jack Wilshere's departure from the club.
Alan Smith believes Arsenal boss Unai Emery has a difficult job on his hands in getting the best out of Ozil.
The Sky Sports commentator believes Ozil disappointed against City on Sunday despite being deployed in an unfamiliar role.
"For me, this is a relationship that could go one of two ways – whether Ozil responds to Emery or whether he doesn't," Alan Smith told SkySports.
"There have been times in recent years when Ozil seems to have switched off and lost the ball, and the team have lost the ball and the team have suffered. It's going to be fascinating how Emery deals with that.
"Ozil is a player who signed for fortunes and he is expected to play. That is going to be one of the most interesting things to watch. How is Ozil going to fit in with the new regime? He has had a turbulent summer with all that went on, then the World Cup, which was a disaster for Germany. He needs to settle down now.
"I'm sure he will be desperate to do well. And Arsenal need him. He is one of the key creative players. On his day, there are not many like him in the Premier League. Emery has to get hold of Ozil, try to get the best out of him, get him on board."
See More: "Went missing again" – Mesut Ozil slammed by John Cross following Arsenal defeat to Man City
Arsenal are back in action this weekend with a tough trip across London to take on Chelsea at Stamford Bridge. The Blues also replaced their manager over the summer and are coming off the back of a 3-0 win over Huddersfield in their opening game of the season.