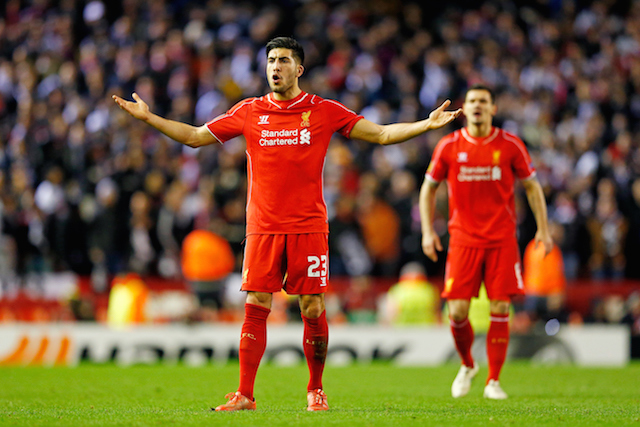 Manchester City lifted the League Cup trophy after beating Liverpool on penalties at Wembley yesterday.
Liverpool may have lost but Emre Can did pull off the most audacious skill in the match when he scored a cheeky panenka.
Unfortunately the Reds missed all their following penalties while City scored every penalty except the first spot kick.
We took a look at the reaction Can received after the game. For those who missed the penance here it is.
https://twitter.com/TurkzZ/status/704022026734968833
Even Chelsea fans were pretty impressed.
https://twitter.com/TweetChelseaFC/status/704020673665093632
Can's penalty transcended sports with Horse racing legend AP McCoy praising the 'bottle' shown by the young midfielder.
Now that takes bottle #Emrecan

— AP McCoy (@AP_McCoy) February 28, 2016
West Ham fans were also gave Can credit for the panenka.
Emre Can you cheeky fella!

— Spencer FC (@SpencerOwen) February 28, 2016
Meanwhile Turkish followers put down his decision to attempt a panenka down to his heritage. Can is one of three ethnic Turks in the Germany national team with the others being Mesut Özil and İlkay Gündoğan.
EMRE CAN TURKISH MENTALITY SAVAGE

— KemaI (@KemTurco) February 28, 2016
Other fans put it down to his German training – as we all know German's do not miss penalties.
Emre Can – German ✔️ scores
Leiva – Not German ❌ miss
Courinho – Not German ❌ miss
Lallana -Not German ❌ miss

Coincidence?

Nein.

— Comical Klopp (@comicalklopp) February 28, 2016
Emre Can so cheeky with the panenka pic.twitter.com/0Hl1QcszOP

— Viktor Fagerström (@ViktorFagerLFC) February 28, 2016
Some fans went as far to state that Jurgen Klopp should be considering him as future captain material.
Thought Emre Can was boss. He'll be a top player in a few years

— Indigo ? (@IndigoLFC) February 28, 2016
Anyone else think Emre Can should be captain from next season? Quality, rarely injured, never puts his head down/gives up. Easy choice imo

— . (@Matty__A) February 28, 2016
Emre Can was immense today. Worked his socks off. Made some mistakes of course, but I was very impressed. Potential captain in my eyes.

— Tyler (@tylernotteddy) February 28, 2016
See More
Liverpool star Emre Can desperate to avoid defeat at Wembley
Photo: Emre Can heads to the bowling alley ahead of Liverpool v Man City final