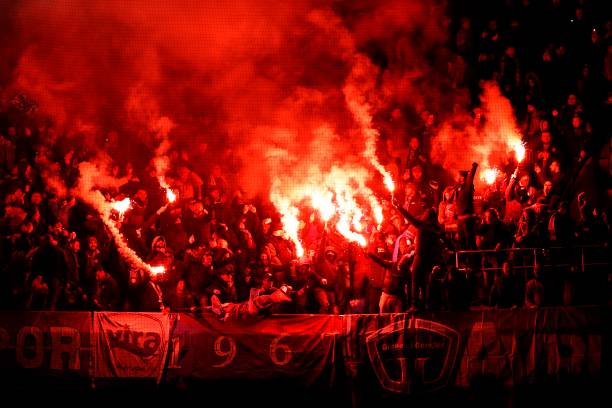 Some of AC Milan's Most Expensive Transfers 
AC Milan are one of the giants of European and Italian football. They've won Serie A (Italy's top footballing division) 19 times over the course of their history. They've also won Europe's elite cup competition, the Champions League (formerly known as the European Cup), 7 times, making them one of the most successful teams in the competition. While they dropped off the pace a little at the end of the 2010s, they've bounced back, winning Serie A in the 2021/22 season, and are currently 2nd behind Napoli this year. A team as big as AC Milan has had plenty of expensive transfers over the years, and that's what we're looking at today.
Charles De Ketelaere
This exciting Belgian attacking midfielder joined Milan at the start of the current season, signing his contract on August 2nd, 2022. He joined from the Belgian side Club Brugge for a fee of €32 million and has slowly been integrating himself into the team via a number of substitute appearances. Unfortunately, he hasn't been showing the promise that Milan fans expected, only registering one assist in 16 Serie A appearances. However, he's only 21 years old, and there's still a lot to come from him, so keep an eye on him for the future.
Fikayo Tomori
This Canadian-born centre-back is one of the few players involved in the England national team that plies their trade abroad. He signed for AC Milan from Chelsea for a fee of €31.6 million on July 1st, 2021, and has become a key member of the team. He played 31 matches in Serie A for Milan last year and has so far featured in every game this season, scoring a goal in the 2-0 win over rivals Juventus. At just 25 years old, there's still room for him to improve, but he's already putting in fantastic performances for the Italian side. 
Lucas Paqueta 
Milan's 3rd most expensive player is Lucas Paqueta, who signed from Brazilian side Flamengo for a fee of €38.4 million on January 3rd, 2019. However, Paqueta didn't have the best of times at Milan, only scoring one goal and providing two assists in his 37 games in Serie A. Unhappy with his lack of end product on the pitch, Paqueta was sold just 18 months after he signed for Milan. He joined Ligue 1 team Olympique Lyon on September 30th, 2020, for a fee of €23.44 million. Poor performances and a nearly €15 million loss for Milan means he's not remembered fondly at the San Siro.
Conclusion
We could have included many more players on this list, as they've been involved in a number of high-profile transfers. So many players want to come and play for such a historic club, partly because of the atmosphere the fans bring to each game. Seeing a Milan game live would be incredible for any football fan, as the atmosphere has an authentic passion about it that some big clubs can't provide. It's just like how some people prefer live dealer casino Ireland games as they tend to be more authentic than animated games. Now that Milan are back at the sharp end of the table, there's every chance we're going to see even more expensive transfers than the ones we've already seen.