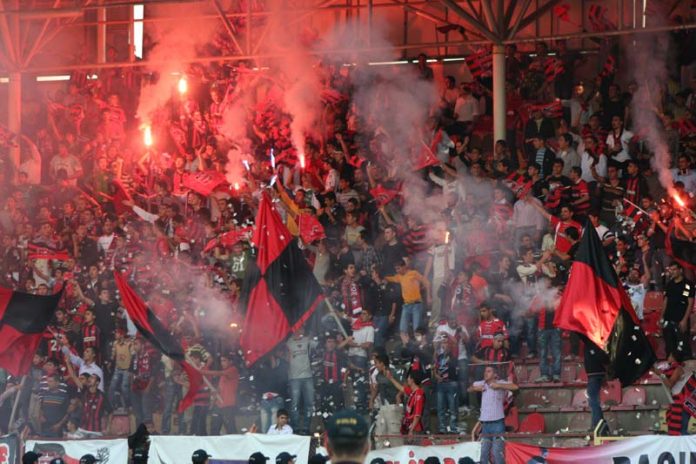 Founded: 1969
Stadium: Kamil Ocak Stadium
---
Background
Gaziantepspor also known as Şahinler (The Falcons) are a proffessional football club based in the city of Gaziantep. The city is located in the South-Eastern Anatolian province of Turkey and is the regions leader in terms of population, economy and development.
The club was formed in 1969 under guidance of the then city major Abdulkadir Batur, Batur organized a meeting among 58 of the cities most influential members to discuss laying the foundations for a sports club in the city. The group met repeatedly and founded the club in the same year, electing Beşir Bayram as Gaziantepspor's first chairman.
Gazi in Turkish means 'war veteran', Antep was legally renamed Gaziantep in 1921 meaning "Victorious Antep", a title the city was awarded for her inhabitants valiant war efforts fighting off invading forces in WW1. The founding members chose the club to represent this. The black is in commemeration of the fallen martrys who died protecting the city during the war, the red represents the spilt blood of the cities heroes who died during the conflict.
Gaziantepspor play their games in the 16,891 capacity Kamil Ocak stadium named in honor of ex-city mayor Kamil Ocak who played a key role in developing sports in the region and building new sports facilities. Recently a 35,000 seater stadium project has been proposed however, it won't be ready for a few years yet.
History
After spending most of their history in the lower divisions Gaziantepspor achieved promotion to the Turkish Super League in 1990 and have remained their ever since. The club have been growing in size and stature at a steady pace, finishing 3rd in the 1999–2000, 2000–2001 seasons and 4th in 2002-03, 2003-04, 2010-2011.
The club's previous chairman was responsible for building the state of the art Celal Doğan Youth academy in which players as young as 13 are trained and nurtured.
Interesting Facts
Gaziantepspor's emblem represents the cities landmarks, Gaziantep castle is symbolized by the outline of the logo. Above the Gaziantep banner lies the martrys memorial, the checkered background represents the cities treat to the world, the famous desert 'Baklava'. In the foreground is a Falcon which is the clubs nickname as well as the name of one of the cities heroes Şahinbey.
The club enjoy most of their support from the city and province which have a population of 2 million. Their main ultra group is called Gençlik 27, (Youngers 27), 27 corresponds to the cities code. Gençlik 27 was founded in 1996 by Hasan Günoğlu also known as Hasan Reis (Reis meaning Boss). The supporter group are renowned for creating a great atmosphere at home games with their red flares flags and are found in the 5th and 6th stands behind the goal. They are not known for acts of hooliganism and violence and hardly any crowd trouble is reported at games
Honours
No major honours