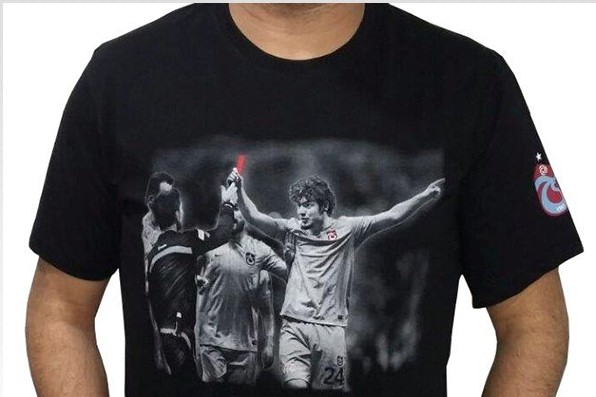 The official Trabzonspor and club store website crashed today under a deluge of traffic generated from fans wanting to get hold of the official Salih Dursun t-shirt.
Trabzonspor midfielder Salih Dursun hit the headlines when he sent off referee Deniz Bitnel during the 2-1 defeat against Galatasaray – only to get sent off himself for the incident.
Trabzonspor have responded by releasing a range of t-shirt's depicting the now infamous incident and revealed that all profits earned from sales will be sent to help improve referee training.
Even Dursun himself was not expected such widespread support as he became an overnight hero with several top-tier clubs even coming out and openly praising his actions
Dursun was heralded as a public hero with fan groups across the country offering their support.
Bursaspor came out in support of Dursun and went as far to declare him a heroic outlaw describing him as standing up for Anatolian football against the perceived injustice of referees against them – in with the more successful Istanbul sides.
Salih Dursun Trabzonspor'un değil, artık Anadolu'nun sembolüdür ve artık bizim de evladımızdır.

— Bursaspor (@BursasporSk) February 21, 2016
Türk futbolunun KARA gecesi pic.twitter.com/Iv6LoB0lU4

— Trabzonspor Kulübü (@Trabzonspor) February 21, 2016
Former England international Paul Gascoigne was involved in a similar incident while playing for Glasgow Rangers but unlike Dursun he was only shown a yellow card.
https://twitter.com/Turkish_Futbol/status/701535850094526466
https://twitter.com/Turkish_Futbol/status/701535850094526466