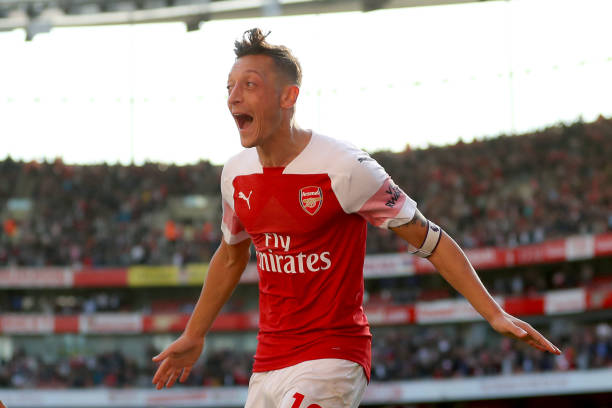 Arsenal extended their unbeaten run in all competitions to 20 games after holding Manchester United to a 2-2 draw at Old Trafford on Wednesday.
The Gunners were without Mesut Ozil again who was ruled out with the same back injury that saw him miss the 4-2 win over Tottenham in the North London derby.
Ozil has now missed the last three league games for the North London based outfit.
We took a look at how Arsenal fans reacted to the playmaker of Turkish origin missing the game.
See More: Arsenal Forward Will Leave Emirates, Galatasaray Receive Transfer Boost
Is Ozil being unfairly treated? he has missed two games due to injury. There was a mixed response from Arsenal fans on social media with some who think he needs to go and others who feel some fans and pundits are being very reactionary.
2 weeks of Xhaka hating followed by 2 weeks of Ramsey hating, followed by 2 weeks of Mkhitaryan hating so Ozil should only have a week left of hating then some other poor bastard will be on the hate list

— Steven Fox (@steven10fox) December 5, 2018
We saw criticism of Ozil before but one thing has changed. Wenger defended his players, Emery will not. It's up to us to defend them. Ignore Ian Wright, ignore pundits, ignore media. Believe to your eyes, believe and love your players. Don't repeat last year's mistake

— Kate U (@Liveorangejuice) December 5, 2018
I love Ozil
I support Ozil
I respect Ozil

Do one, haters

— Craig ??????? (@KentGooner77) December 3, 2018
Imagine having Mesut Ozil in this game but haters won't want to see this tweet.

— MikeThePundit (@MikeThePundit) December 5, 2018
Seriously why is there such an agenda against Ozil, he's injured and missed a couple of games, and apparently it's some big bust up

— Kray Baker (@KrayBaker93) December 5, 2018
Not everyone brought into Ozil being injured.
Is Ozil "injured" again. #MUNARS pic.twitter.com/XC8jynxKGD

— ! (@fukdandbombd) December 5, 2018
There was some common sense. Ozil is officially out injured with a back problem as confirmed by the club.
Some of the arsenal fans are nuts ??‍♂️ Ozil could actually be injured. Poor bloke gets hammered for being injured where two weeks ago you were all riding his shaft. Get behind the team and shut your mouth. Your embarrassing yourself!

— Craigo?? (@craigos717) December 5, 2018
Well at least he is consistent.
AFC fans are the most reactionary of any fan base. Ramsey grabs up Alli & plays well for 45 mIns and everyone wants to keep him. Ozil hasn't played for a month & Emery says he don't know when he got injured now everyone wants him gone. I'm consistent, I've said bin both for years

— Unai Emery FC ?⚪️ (@LeeGunner82) December 4, 2018
Good point!
Feeling hard done to after drawing away at Old Trafford without Ozil and Xhaka, during a game in which both Holding and Ramsey got injured, either shows how far Arsenal have come or how far United have fallen. Also, fuck Rojo, multiple potential leg braking tackles from the twat

— Aaron (@Quinndredd) December 5, 2018