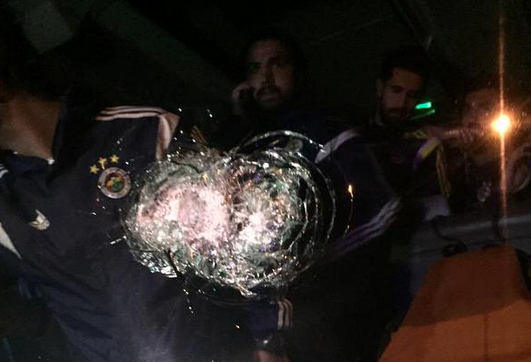 The armed attack on the Fenerbahçe team bus was not a surprise according to one official from the club.
"There had been other violent attacks over the years," the official told the BBC.
"Every time we go to Rize, the police take tight security measures, place police officers and cars every 100 metres on the road."
See More
Fenerbahce News
Fenerbahce make loan bid for Palmeiras striker Henrique
Neymar: 'I support Fenerbahce because of Diego'
Despite the tight security in place a car travelling from the opposite direction was able to shoot the driver of the bus with a rifle.
Fenerbahçe head of security Serdar Kılıç prevented the team bus was being involved in a serious crash.
Kılıç managed to hit the breaks after the shooting took place preventing the bus from careening off the Sürmene-Araklı Highway highway.
The Fenerbahçe official also revealed that this was not the first attack on the team in Trabzon.
"The security measures would end at the entrance of Rize. But there would always be Trabzonspor fans attacking our bus with stones. In 2004 one of our players was injured after a stone hit his head," he added.
"Two years ago, against Trabzonspor, their fans pulled out a gun towards the administrator's bus but did not shoot. It was recorded on a live TV programme. We could see it coming.
"We have no problem at Rize. But playing in Trabzon is like playing in a rebel zone."
Fenerbahçe have called for the league to be suspended following the incident.
The Süper Lig union of clubs will hold a meeting today to discuss the possibility of suspending the league.