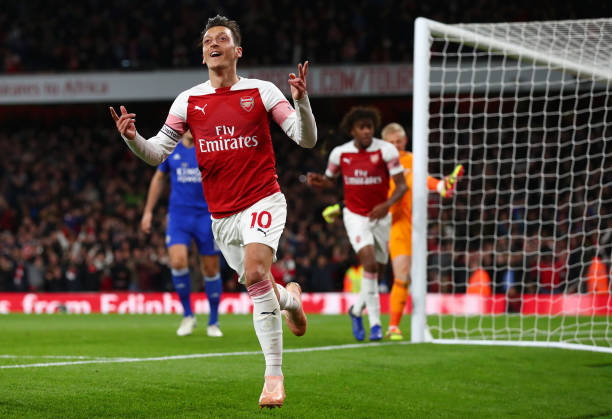 Mesut Ozil pledged his future to Arsenal after signing a new deal with the North London based club in January.
Ozil had entered the final six months of his previous contract and had been linked with a move away from the Emirates with Fenerbahce and clubs from East Asia plotting moves.
The playmaker of Turkish origin became the highest paid Arsenal player of all time after agreeing to a £350,000-a-week deal but he turned down three times as much to stay at the club.
Ozil's agent Dr Erkut Sogut made it clear that money was not the deciding factor for his client.
See More: German Kid Puts Leroy Sane On The Spot With About Arsenal Star Mesut Ozil Question
"For Mesut, money was by no means the biggest factor," he told the Evening Standard. 
"Money is definitely one important thing to consider, but people must remember that footballing ability is just one aspect of a contract negotiation. The commercial impact of a footballer is crucial nowadays.
"Mesut has the biggest social media following of any player in the Premier League and I just read that his shirt numbers (sales) were the largest at the club. At the end of the day, this is all information that has to be taken into consideration. So, the commercial side is very big with a player like Mesut, who has played in different countries and was the No10 of the Germany team, where he won the World Cup. His market is worldwide. The club makes money out of these players as well."
Ozil has come under fire from sections of the press at times and makes a convenient scapegoat at times due to his languid body language but Dr Sogut underlined that his client has always been committed to the club.
In fact, he stated that Ozil wanted to stay at Arsenal as he loves the club and feels at home.
"It came down to what was in his heart," said Sogut. "We were free to sign with other clubs and, in the end, Mesut loves the club. I put everything to him and he just said, 'This is my home, I want to be here'."
Ozil has captained the team for past few games and has a total of four goals as well as one assist in all competitions this season.