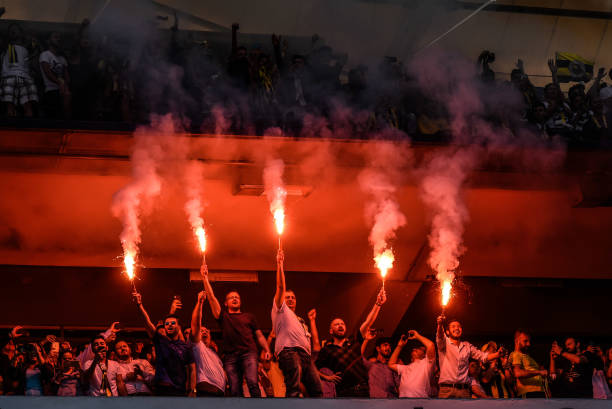 Amedspor player Mansur Calar has been charged after attacking several opposition players during a heated match against Sakaryaspor, in Diyarbakir, Turkey on Sunday.
Calar allegedly slashed Sakaryaspor players Tevfik Köse, Dilaver Güçlü, Hacı Ömer Doğru and Ferhat Yazgan with a concealed weapon.
Television channel Tv264 show footage that appears to show the 33-year-old holding a weapon on the field during the pre-game handshakes.
Disturbing scenes yesterday after Amedspor player Mansur Çalar allegedly took a razor blade onto the pitch against Sakaryaspor and slashed Tevfik Köse, Dilaver Güçlü, Hacı Ömer Doğru and Ferhat Yazgan

The Tv264 shows what appears to be an object held by Çalar pic.twitter.com/Vhg4pCr2R0

— Turkish Football (@Turkish_Futbol1) March 4, 2019
Calar is shown to take a swipe at Yazgan before targeting him and his teammates again.
Sakaryaspor released a statement regarding the incidents after the game accusing Calar of carrying out an attack: "The team was attacked by a group of 7-8 men including Abdullah Cetin in the changing room before the game. Our captain Ferhat Yazgan was assaulted. During the opening ceremony before the game Yazgan was attacked by Mansur Calar. The attacks continued throughout the game. During the penalty incident Dilaver Guclu had his stomach slashed and Tevfik Kose suffered similar injuries. At half-time Haci Omer Dogru sustained injuries to his face."
The four victims from the visiting side shared photographs of their injuries from their social media accounts which show that they were cut but the weapon used remains unclear.
Tevfik Köse, Dilaver Güçlü, Hacı Ömer Doğru and Ferhat Yazgan have pressed charges against Çalar and shared photos of the injuries they sustained

Absolutely shocking… hopefully Amedspor issue an apology to the players involved and punish the player involved pic.twitter.com/zsWiuqPBwD

— Turkish Football (@Turkish_Futbol1) March 4, 2019
The victims have pressed charges against Calar accusing him of using a 'cutting object' to inflict the injuries.
The Amedspor player is unable to leave the country and will face trial.
His club blamed Sakaryaspor and Yazgan for provocation.
The two sides have a rivalry stretching back to last October with Sakaryaspor's actions angering Amedspor.
Sakaryaspor played a video showing military operations against the PKK in Diyarbakir which was interpreted as a provocation by Amedspor.
Yazgan made a 'Grey Wolf' salute during the national anthem which is a pan-Turkic gesture – the grey wolf plays an important part in Turkish mythology.
The wolf sign has however, also been adopted by nationalists. Amedspor meanwhile have pandered towards Kurdish nationalism which is why they are blaming Yazgan for provoking the players and fans.
The Turkish Football Federation have since referred Amedspor players Muhlis Istemi, Muhammed Ali Ozdemir, Calar and Sakaryaspor player Serkan Odabasoglu – who was sent off during the game – to the Professional Football Discipline Committee (PFDK).
The players involved have breached rule No 44 and could face 5-10 match bans. Calar meanwhile could face more severe punishment and prison time.
The Turkish Football Federation have referred Amedspor, Muhlis Istemi, Muhammed Ali Özdemir & Mansur Çalar (accused of slashing 4 players with a razor) to the disciplinary committee

Sakaryaspor player Serkan Odabaşoğlu will also face the committee

Çalar could be banned for life pic.twitter.com/AXc5wdlsYg

— Turkish Football (@Turkish_Futbol1) March 5, 2019