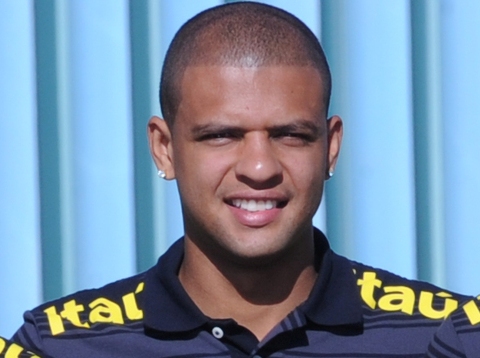 Felipe Melo, the 'Gladiator', the 'Pitbull', the Lion of Istanbul, Galatasaray's enigmatic midfielder is already adored by millions of supporters despite only having been with the Lions for just over six months. The Brazil international is going through a renaissance at his new club and is even rumored to be closing in on a return to the Brazilian national team. 

Melo has had his ups and downs since he first graced the footballing stage with Brazilian giants Flamengo in 2001. His impressive performances resulted in a transfer to rivals Cruzeiro in 2003 with whom he won the Campeonato Brasileiro Série A & Copa do Brasil the very same year. After a brief stint with fellow Brazilian club Gremio he made his entry on the European stagel when Spanish club Mallorca signed him in 2005. Within 6 months he had been bought by Racing De Santander for €2 million. However, his real breakthrough came during the 2007-2008 season he spent with Almeira. Melo broke into the starting 11, played 39 games and scored 7 goals, his performances resulted in a high profile €8 million move to Italian club Fiorentina in 2009.

Felipe soon earned the nickname, 'Gladiator', for his die-hard performances and went on to became a crowd favorite. The 'Violas' made it clear what they thought of their chairman when Melo was sold to rivals Juventus the following season. Fiorentina fans graffitied "Pantaleo Corvino [Fiorentina chairman] should sell shoes, not champions" in protest of the €25 million move. The 'Gladiator' broke into the Brazil national team in the same year helping the Seleção lift the 2009 Confederations Cup. He was also selected in the 2010 World Cup squad which ended in controversy after getting sent off in the quarter-finals against Holland, Brazil went on to lose the game and were knocked out of the competition despite being favorites. 2010 was a tough year for Melo, Juventus finished 7th in the league and he was dropped from the Brazil squad following the red card incident. 

Melo surprised many with his next move, in 2011 he signed for Turkish giants Galatasaray on a loan move with a buy-out clause. The 'Gladiator' soon became known as the 'Pitbull' a nickname he himself requested, 'I'm the teams Pitbull, I run, I chase down and I bite my opponents'. An important factor contributing to Melo settling in so quickly can be found in the footballing culture of Brazil and Turkey which in some respects is remarkably similar. Both are incredibly passionate, emotional behaviour is the norm and father figure managers tend to do well. Its no surprise that Melo feels at home in Istanbul, he has the backing of millions of fanatic supporters, gets applauded for outlandishly emotional behaviour and is managed by a 'Godfather' like manager, the legendary 'Imparator' (Emperor) Fatih Terim. Ex-Brazil manager Dunga referred to Melo as "a lad who needs to be made to understand. It's right to speak to him alot". Well with Fatih Terim he has been receiving plenty of attention. Terim is a motivational specialist and is renowned for getting the best out of his players. 

Felipe Melo has developed a special relationship with the Galatasaray supporters, he is known as, 'Sahadaki biz', ('us [the crowd] on the pitch'). If there's anyone who understands and knows how to get the best out of the '12th man' its Melo. His Pitbull goal celebration, running to the stands after an important challenge rallying the crowd and constantly interacting with his loyal fans often results in the atmosphere of home games reaching fever pitch. He bought all the staff at the club presents and chocolates for Christmas, was the only foreign player to stay in Turkey during the Christmas holidays and his recent lion tattoo won him a special place among Galatasaray supporters. Melo told reporters during the recent opening of the 'Galatasaray store' that, "the lion tattoo on my arm is significant because it like you I am also close to my faith, in Brazil the lion represents the prophet Jesus. The lion also is the symbol of my club." He also likened being at Galatasaray to his early years at Flamengo, "Galatasaray supporters have been with me since I first arrived at the club and I really want to thank them all. Being here reminds me of my days at Flamengo, the love from the fans is similar, since then I have worn the shirt of many clubs but none have been like that of Galatasaray." 

Melo however, is not all theatrics and drama, he is a midfielder of the highest quality. He is perhaps most well known for his defensive midfield attributes. He is a powerful, athletic and tireless midfielder, often the most hard working player on the pitch. He closes down the opposition well, uses his speed to intercept lose balls and uses his strength to make strong well timed tackles. Melo is undoubtedly one of the games best 'destroyers', he can make life hell for opposition midfielders however, a common misconception is that this is the be all end all to his game. In a recent interview with UEFA, Melo was quoted as saying, "The problem is that a lot of people see the 'Pitbull' nickname as a negative thing, as if I was all running and no touch. That's not the way I see myself because I know I've got skill, I'm a good passer of the ball and I don't make many mistakes". It may come as a surprise but Melo actually had one of the highest pass completion rates in the World Cup, 90% of his 291 passes were accurate. This wasn't just a one off, he has had the highest pass completion rate in 13 out of the 24 games he has played for Galatasaray. Melo is not only a great passer of the ball he also contributes well to attacking moves. Terim realizing the attacking potential of Melo had no qualms giving him the 'No 10' shirt and the Brazilian has been relishing his new found freedom. Melo has already scored 9 goals this season a career high. 

A major criticism of him in the past had been his temperament and disciplinary issues, credit has to be given to manager Fatih Terim who has done a good job so far helping Melo channel his fiery personality in a positive way. Melo is yet to be sent off this year.

Felipe Melo has risen like a phoenix since his arrival in Istanbul, he is full of confidence, relishing being the fans hero and has played a key role in Galatasaray's resurgence. Galatasaray are currently first in the league and it finally looks like a return to the glory days could be back on the cards. Melo is already being rumoured with a return to the Brazilian national team, if he carries on like this the Lion of Istanbul will rightfully earn his place back in the Seleção.