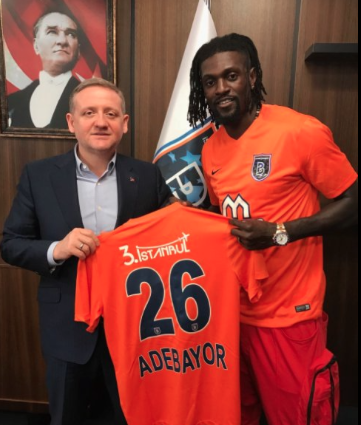 Will former Arsenal & Tottenham man Adebayor be a success in the Turkish League?
After years of being linked with a move to the Turkish league, Emmanuel Adebayor has finally joined a Super Lig club but not a team most pundits were expecting.
Adebayor was linked with a move to Besiktas, Galatasaray and several other clubs with strong financial backing.
The Togo international ended up deciding to join Basaksehir. If you are unfamiliar with the Istanbul minnows they were founded in 1990 as İstanbul Büyükşehir Belediyespor before changing names to Istanbul Basaksehir in 2014. 
Unlike Istanbul's established clubs many of whom predate the founding of the Turkish Republic in 1923, Basaksehir did not even exist three decades ago.
They have seen a meteoric rise from playing amateur football in the 1990's to challenging for the league league title.
For more on their rise: Turkish minnows Basaksehir sit unbeaten at the top of Super Lig having seen off Galatasaray and Fenerbahce
This seasons surprise package Basaksehir are currently second in the league just two points behind league leaders Besiktas.
They did not get where they are by chance either. Basaksehir's only defeat of the season was away to Fenerbahce. Just to put things in perspective, the most highly decorated club in the league Galatasaray have not beat their cross-city rivals at the Sukru Saraoglu this century.
Basaksehir have conceded the fewest goals (12) and only Besiktas, Galatasaray and Fenerbahce have scored more goals than their 36. 
The team once referred to as minnows no longer deserve that title. Under head coach Abdullah Avci they finished the last two seasons in the top four. The Istanbul based outfit have the best shot to goal ratio, have netted more goals from counter attacking moves than any other side and play some of the most aesthetically pleasing football in the league. Avci has shaken off the image of being a defensive coach this season.
The former Turkish national team coach is a pragmatic manager who plays to his strengths and resources. Avci simply did not have the players to play quality attacking football in previous years but he now has the likes of 19-year-old wonder-kid Cengiz Under, 21-year-old forward Irfan Can Kahveci and of course Adebayor at his disposal.
After stints at Arsenal, Manchester City, Real Madrid and Tottenham, Adebayor put pen-to-paper to a 18-month deal.
There were concerns regarding his fitness after spending the past six-months as a free agent but Basaksehir chief scout Alioum Saidou – and former Cameroon international – gave the club the all clear after scouting him in the African Cup of Nations, executive director Mustafa Erogut told Turkish-football.com.
Basaksehir even consulted his former manager at Crystal Palace, Alan Pardew, who gave a glowing reference.
The Istanbul side have a well balanced side but have lacked a powerful striker who can hold up play and pose an aerial threat.
Avci is renowned for making shrewd transfers. Basaksehir executive director Mustafa Erogut calls him the Warren Buffet of transfers.
The former Turkish national team manager has an ability to sign a player with potential when his price is low. Like Buffet he follows the mantra buy low, sell high. Nineteen-year-old wonder-kid Cengiz Under has turned out to be one of the transfers of the campaign but was cost just £600,000 from Altinordu. Avci has created a balance between youth and experience. Turkish international veteran Emre Belogzoglu is currently lighting up the league and Basaksehir signed Egemen Korkmaz earlier this month.
The arrival of Adebayor fits into Avci's current team setup. The Togo international will move ahead Mehmet Batdal in the pecking order but stylistically they are similar players. Both are tall, powerful forwards able to hold up play and pose an aerial threat.
The experienced striker's contact fee has not been disclosed but he will not be making what the likes of Robin van Persie and Wesley Sneijder make at Fenerbahce and Galatasaray, respectively. Basaksehir have also included performance related bonuses in his contract relating to whether they make it to the Europa League or Champions League and the number of goals he scores.
The club operate with fiscal discipline rarely seen in the league and are unlike the stereotypical Turkish club. Generally Super Lig clubs are member owned and new presidents are elected every few years. This format has advantages but it has resulted in clubs being impulsive and thinking only of the short term. Basaksehir have a corporate model with a board that are able to implement long-term goals. This partly explains how Avci and the club president Goksel Gumusdag have been able to stay in charge on and off for almost a decade. The results are for everybody to see. Basaksehir have gone from total obscurity to one of the most well managed clubs on and off the pitch. Their progress and development is unmatched by any other side in the top-tier. The rise of Basaksehir has been nothing short of phenomenal.