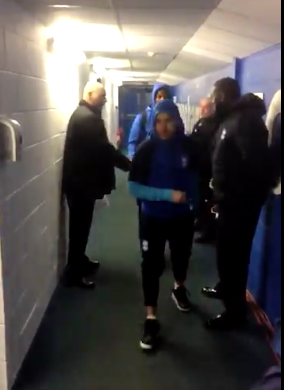 Birmingham City lost their second match in a row on Tuesday 7 March, after losing 1-0 at home against Wigan.
January signing Kerim Frei did not start for the Blues but he did come on in the second half.
See More: For the latest Kerim Frei news and everything else you ever wanted to know about the Birmingham City
We took a look at how Birmingham City fans reacted to his display on social media.
Frei did not start again, questions are beginning to be asked why Zola signed the Turkish international winger if he is just going to sit on the bench.
Considering the Blues shelled out over £2 million on Frei it does make you wonder why he is not getting more playing time.
Frei has played just 356 minutes of football over the course of eight Championship games since joining.
Zola has wasted over £2m on Kerim Frei yet it was a sackable offence for Rowett to waste £1.5m on that twig Fabbrini

— Joe Hinton (@joephinton) March 7, 2017
@BCFC I can't believe Rowett signed Adams and barely started him, at least Zola would nev….oh ang on, Kerim Frei.

— KC (@KeegBCFC) March 7, 2017
It seems the fans want to see more of Frei. The 23-year-old is actually a talented player with impressive dribbling ability and has experience winning league titles and playing Champions League football.
@Chris96bcfc well exactly. Get Frei and Juke on

— Elliott Griffiths (@ElliottBCFC) March 7, 2017

To be fair, Zola did at least give Frei a full half of football this time around.
Good to see Kerim Frei actually playing.
Beginning to think Zola had "wasted money", like Rowett was absolutely slaughtered for… #bcfc

— Adam Hennessey (@9_Hendo) March 7, 2017
Frei does have a tendency to take a great deal of time focusing on his looks but this takes the biscuit.
Kerim Frei's got a great career ahead of him as a shop mannequin.

— Chris Albas-Martin (@chrisam91) March 7, 2017
Birmingham City's new Turkish fans following Frei were also puzzled as to why Zola is not giving him much playing time.
@BCFC hooocaaaaaa kerim frei oyuna sokkkk alın şu maçı bok yemeyinn

— Anıl Ulusoy (@weezyfelix) March 7, 2017