Erkan Güven's refereeing licence has been revoked by the Turkish Football Federation (TFF) following a Twitter spat with Beşiktaş playmaker Oğzuhan Özyakup.
Güven took to Twitter to criticise Özyakup following Besiktas's 3-2 defeat against Kayseri Erciyesspor in the 7th round of the Turkish Super League.
Gökhan Töre was sent off by referee İlker Meral for allegedly sweraing at Erciyesspor manager Bülent Korkmaz.
Özyakup complained that Töre should not have been sent off and claims he did not swear his teammate swear Korkmaz.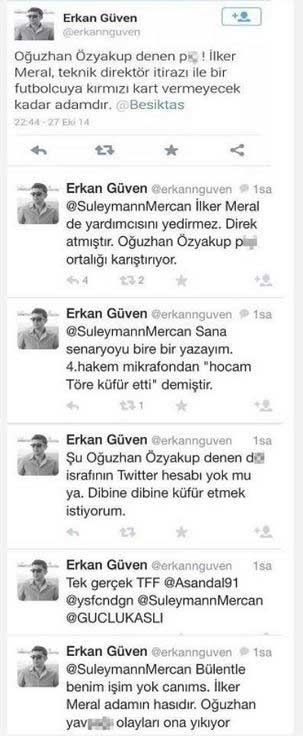 Güven swore at Özyakup and accused the former Arsenal man of provoking the situation.
"That bas*#**d Oğuzhan Özyakup is trying to stir the situation," Güven tweeted.
The referee also tweeted, "Doesn't this fool who goes by the name Oğuzhan Özyakup have a twitter account, I want swear at him."
The Amateur Football disciplinary committee released the following statement, "Erkan Guven's refereeing licence has been revoked following the statements he made on a social media website."