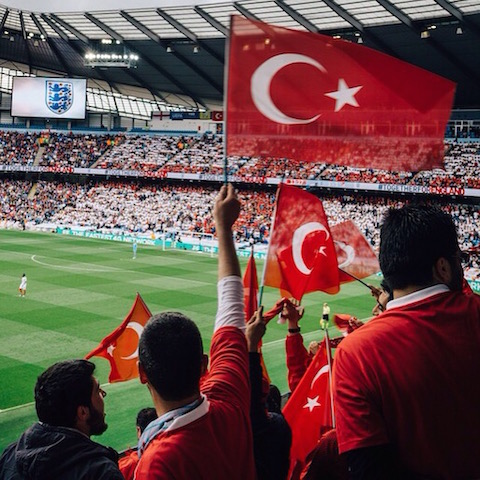 Turkey crash out of World Cup qualifiers following shock defeat against Iceland
The last time Turkey booked a place in the World Cup was 2002. The Crescent-Stars finished third that year but have not qualified since.
Turkey crashed out of the 2018 World Cup qualifiers last week after a shock 3-0 home defeat against Iceland at the Yeni Eskisehir stadium.
Crescent-Stars boss Mircea Lucescu made a number of bizarre changes to the team heading into the clash.
Suffice to say the gamble did not work out. We would actually recommend Lucescu to brush up on his gambling technique at the casino reviews online before rolling the dice against.
Arda Turan was picked despite not playing a single game of competitive football for Barcelona this season.
Roma starlet Cengiz Under was meanwhile left out of the match-day squad. In hindsight Lucescu could have done with a player with Under's pace and skillset in the later stages of the game.
In form Galatasaray centre-back Serdar Aziz was also dropped while Borussia Dortmund defender Omer Torpak was benched at the expense of Mehmet Topal who happens to be a defensive midfielder.
In form Besiktas striker Cenk Tosun was played on the wing while 37-year-old midfielder Emre Belozoglu started in midfield.
Lucescu played a slow midfield lacking physicality against a powerful Iceland side.
The mismatch was apparent from the get go as Iceland were stronger, faster and more physical than an ageing Turkey side.
It was an absolute disaster.
Gudmundsson opened the scoring for Iceland on 32 minutes after Caner Erkin completely lost his marker in a shambolic display of defensive ineptitude.
Bjarnason exploited yet more poor defending to double the away sides lead seven minutes later.
Arnason stuck the final nail in Turkey's coffin a few minutes into the second half.
Turan was booed – not the first time – by the crowd after being taken off for Emre Mor on 60 minutes.
Your team is losing 3-0 at home
Your country is crashing out the qualifiers
But you are smiling…
Arda Turan…
Utanmaz pic.twitter.com/pRzwqoUI7M

— Turkish Football (@Turkish_Futbol1) October 6, 2017
To be fair Turan was not solely to blame, the team performance in general was poor as was the selection and tactics.
The big question is what will Turkey do next?
The first call to action could very well be getting rid of the old guard. It is time for Turan, Burak and Emre to hang up their boots. They have been incredible disruptive over the past few years. Attacking old men on aeroplanes, disputes over bonuses, faking injuries… there is a poisonous atmosphere in the national team setup and unfortunately Turan has been the ringleader.
The next generation of Turkish players are showing a lot of promise. The likes of Under, Abdulkadir Omur, Yusuf Yazici, Emre Mor to name but a few were either dropped or left out of the starting line-up for players who are simply over the hill.
Changing a few players will not be enough. Structural and organisational change is required at all level. Turkish football is in need of massive restructuring, a overhaul akin to what Germany pulled off in 2000. The Germans have not only built 52 centres of excellence to school the most promising talents, but also 366 regional coaching bases where 1,300 professional, full-time coaches teach youngsters the basics of the modern game.
Turkey has the population. 80 million to be precise and the youngest demographics in Europe with 24 percent of the country between the ages of 0-14. Just copying what Germany pulled off may not work due to regional differences. A Turkish model is necessary but using Germany for guidance would be a smart idea considering the knowledge gap as far as the two countries footballing standards are concerned.
I would consider Altinordu as currently being the closest thing we have to a 'Turkish model'. The club is getting it right as far as youth development is concerned. Altinordu are doing a brilliant job investing in youth. In fact the club are completely geared towards creating a team completely comprised of in-house talent.
The Turkish Football Federation are still soul-searching over what to do next. The answer may actually be staring them in the face. Altinordu could hold the keys to reforming player development in Turkey.