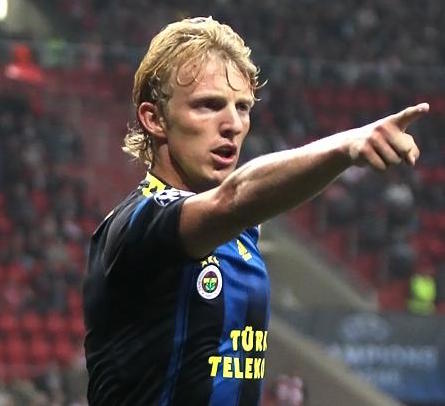 Dirk Kuyt looking forward to Liverpool return [divider]
Fenerbahçe winger Dirk Kuyt admitted that he is looking forward to returning to Liverpool later this month for a charity game organised by the club.
Kuyt revealed that he never thought he would get the chance to return to the club again as a player.
"To get the call was very exciting because I've never been back and it will be very special just to go back to Liverpool, to see the people, to go back to Melwood and say 'hello' to everyone," Kuyt told the official Liverpool website.
See More:
Fenerbahce News
Fenerbahce unable to meet £8m asking price for Swansea striker
Kuyt will join the former Liverpool stars Luis Suarez, Fernando Torres and Xabi Alonso, Pepe Reina.
Former and current Premier League stars Thierry Henry, John Terry and Didier Drogba will also be taking part.
The charity game will be played on March 29. Steven Gerrard and Jamie Carragher will captain the two sides involved.
Kuyt scored 71 goals in 285 matches for Liverpool and became a fan favourite during his time in England.
The Netherlands international played in the the 2006-07 Champions League final, was runner up in the 2008-09 Premier League title race and won the 2011-12 League Cup with the Reds.