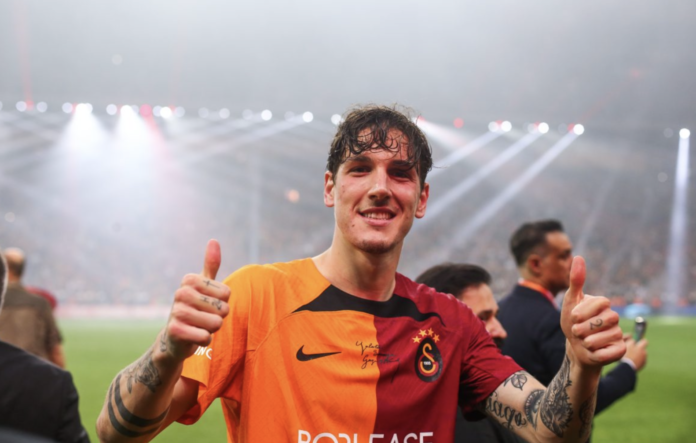 Aston Villa have the option to sign Nicolo Zaniolo on a permanent deal next summer for a fee of up to €40 million (£34.3m).
This is according to Galatasaray vice president Erden Timur, who has confirmed the details of the agreement reached between the two clubs.
READ: Who is Arda Guler? The 18-year-old 'Turkish Messi' Wanted by Europe's Biggest Clubs
Zaniolo joined Villa on loan from Galatasaray last month for a €5m fee.
Timur revealed that the total figure Villa could have to pay to make the deal permanent is an additional €40m.
Timur was quoted by Sports Digitale as saying: "Nicolo Zaniolo wanted to move to the Premier League. We sent him with a record loan fee [€5m] and pending clauses he has a high buy option fee. With bonus' Aston Villa could pay €40m. We signed him for €15m and made this deal to make a profit."
Erden Timur: "Nicolo Zaniolo, Premier League söz konusu olunca gitmek istedi. Rekor bir kiralama bedeliyle gitti. Şarta bağlı yüksek bir satın alma opsiyonu var. 40 milyon euro, bonuslarla ulaşılacak rakamlar. 15 milyon euro'ya aldık ve daha fazla kar elde etmek için şarta bağlı…

— Sports Digitale (@SportsDigitale) September 7, 2023
The Italian winger is a transfer target of Villa's director of football Monchi, who worked with him at Roma.
Zaniolo's arrival came after a serious injury to Emi Buendia.
Villa are looking to climb the Premier League table and progress in Europe this season.
The option to buy Zaniolo is a "conditional compulsory purchase option", which means that Villa will have to buy him if certain criteria are met, such as him playing a certain number of games or scoring a certain number of goals.
Zaniolo has made two appearances in the Premier League so far, and he will be hoping to make a bigger impact after the international break.